Riot Explains Why It'll Never Make A Skin Like This Again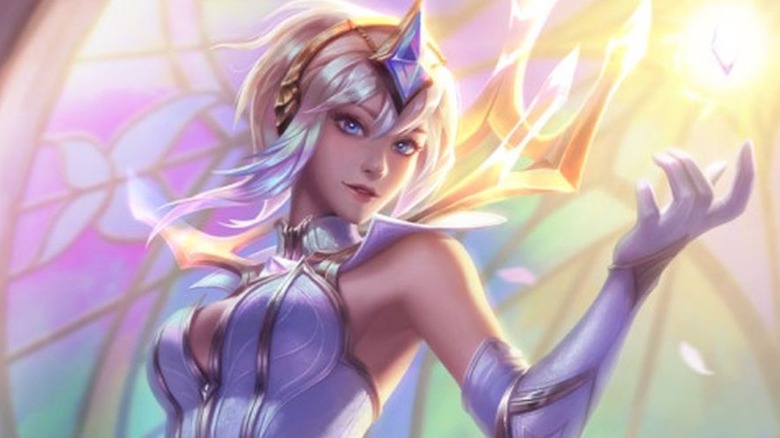 Riot Games
League of Legends is having a pretty big month. Not only did Riot Games just announce a collaboration with major K-pop group Twice, but LoL will soon be launching a brand new character, Seraphine. Unfortunately, the reveal of the new character and Seraphine's unlockable skins have caused a bit of controversy among fans of the game. It has also led to Riot Games making a few statements regarding why it has changed its approach to exclusive character skins going forward. Specifically, there is one type of ultimate skin that Riot will most likely never make again.
Riot Games' Lead Skins Producer, who goes by "Riot Katana" on Twitter, recently fielded several questions from fans regarding the changes in how skins work in League of Legends. Specifically, one fan asked Riot Katana whether or not Riot would ever make a skin similar to Elementalist Lux in the future. Elementalist Lux changed forms throughout gameplay, granting the character a different appearance and accompanying ability with each form. While this was a popular feature and looked super cool, Riot is apparently concerned that including multiple forms like this in the future could end up breaking the game in the long run.
As Riot Katana explained, "We would not be able to make a skin like Elementalist Lux again looking at what we know now. When you're building a game meant to last for as long as LoL has already (and hopefully a lot longer!) we have to be looking to future sustainability as much as we can."
Riot Katana further explained that Riot Games needed to keep LoL's limitations in mind if the company wanted to continue adding new skins and champions in the future. Riot Katana wrote, "Many of our past ultimates have used enough memory that if we continued to create them, seeing multiples in one game could degrade or even crash the game experience for some players which is not a tradeoff we're willing to make."
While it is certainly commendable that Riot is explaining the limitations of ultimate skins in full, Riot Katana's explanation has not been met with much positivity from fans. At least a few replies have been from League of Legends players who see this as an admission of failure on Riot's part. One fan wrote Riot Katana's comments showed that League's engine is outdated and needed to be overhauled from the ground up.
Another complaint regarding Riot Katana's comments is that some fans believe this explanation should have been given as part of an official post from Riot, rather than in a random social media reply. With the lack of ultimate skins being such a hot button issue for LoL fans, it does seem like Riot Games would be better served by making more of a public post.
The League of Legends community has been discussing how skins work with a lot of scrutiny in recent days. Again, this is most likely due to the reveal of the game's newest character, Seraphine.
There has been a bit of negative backlash revolving around the addition of Seraphine, who has been described by fans as being a bit too similar to existing champion Sona. Some people, including esports player Thomas "Zaboutin" Si-Hassan, referred to Seraphine as little more than a reworked version of Sona. Some League of Legends players have even made memes out of the supposed similarities, including one user who joked that Seraphine was simply copying Sona's homework. Others have expressed distaste towards how all of Seraphine's skins are unlockables that are kept behind a progression wall. Only through completing various character-specific missions can players unlock more skins for Seraphine.
The majority of fans seem to be unhappy with the new direction being taken with future LoL skins, but hopefully their fears will be addressed when Seraphine becomes widely playable.
It is worth noting that Seraphine doesn't actually launch until the end of this month. The character has been available through LoL's Public Beta Environment (PBE) since Oct. 13, but the full launch is on Oct. 28. In the meantime, Riot has a bit of an uphill battle ahead when it comes to winning over the fans.
It should be interesting to see how Riot Games applies these lessons to another one of its games that continues to grow in popularity, Valorant. In the past, Riot Games has come under fire for retiring older skins in Valorant, as well as for charging what has been seen as exorbitant amounts of money for skins with a limited time availability.
At this point, it's pretty much a sure thing that a League of Legends sequel is never going to happen. Hopefully Riot Games will stay committed to improving upon the game that players already know and love.