Xbox Game Pass Is Getting This Award-Winning Shooter Very Soon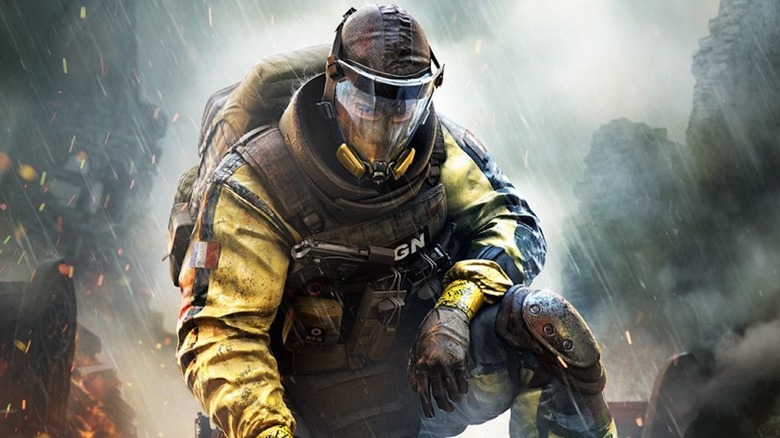 Ubisoft
Xbox Game Pass is on a roll. Xbox CEO Phil Spencer announced at the Xbox Games Showcase that every Xbox Series X launch title will be free-to-play for Game Pass subscribers on launch day. In the meantime, the service continues to add some massively popular titles. Today, Xbox announced that Tom Clancy's Rainbow Six Siege will be joining Xbox Game Pass on Oct. 22.
Even better, Xbox Game Pass members will get access to exclusive discounts on items and DLC for Rainbow Six Siege. In an official announcement, Xbox Game Pass Community Manager Megan Spurr wrote, "You can use your membership discount to get up to 10% off in-game items — including the Year 5 pass to unlock new operators, renown boosts, and more."
If you've never played Rainbow Six Siege, there are more than a few reasons to be excited for its addition to Xbox Game Pass. Ubisoft has continually improved on the game since its initial release in 2015. Rainbow Six Siege was released to pretty decent reviews from fans and critics alike, but there was still a good bit of work to be done. 
In an otherwise positive review of the game, USGamer noted that there was an overall lack of content. Reviewer Jaz Rignall found the multiplayer side of Rainbow Six Siege to be enjoyable, but felt that the single-player portion didn't have much depth to it. CGM's review lamented that the game didn't have enough unlockable content, although it was a "blast" to play. 
The lack of unlockables and extra features is definitely something that Ubisoft has focused on fixing over time. In fact, Rainbow Six Siege is now something of a success story, attracting a bigger audience as the game received new content. In 2018, Polygon's Taylor Cocke attempted to chart the rise of Rainbow Six Siege's popularity. While Cocke acknowledged that Rainbow Six Siege's initial sales were "modest" at best, Cocke posited that Ubisoft's dedication to updating the game over time has turned Rainbow Six Siege into the veritable powerhouse that it is now. In the years since Rainbow Six Siege's initial release, Ubisoft has regularly added new characters and made significant quality of life patches to the overall experience. 
Cocke concluded, "Ubisoft may have not had a hit on its hands when Rainbow Six Siege first dropped, but it has turned what was a mediocre game into something that's poised to become a popular first-person shooter in competitive spaces. The company has grown its unique, slow-paced shooter into something that is truly unlike any other shooter on the market."
Ubisoft's consistent improvements to Rainbow Six Siege have put it in a class with games like Destiny 2 and Star Wars: Battlefront 2, both of which were released to mostly middling reactions and have been tweaked by the developers over a period of years. The result is that Battlefront 2 and Destiny 2 can finally able to give players what they want. This constant retooling and updating has become something of a running tactic for massive multiplayer games within the last few years. Basically, snagging Rainbow Six Siege on Game Pass now ensures that you're getting a product much closer to developer's vision than the version that was released a few years ago. 
Rainbow Six Siege has proven to be so popular that other studios have apparently taken to ripping it off. Back in May of this year, Ubisoft sued Google and Apple for distributing an apparent Rainbow Six Siege clone called Area F2. Ubisoft alleged, "Virtually every aspect of AF2 is copied from R6S."
Ubisoft's action against Area F2 actually came as a shock to many Area F2 fans, who felt that it was a solid replacement for Rainbow Six Siege on mobile devices. Nevertheless, the lawsuit is apparently still proceeding as planned. In addition, less than a week after Ubisoft filed its lawsuit, developer Ejoy took Area F2 offline.
Online reactions to the Rainbow Six Siege Game Pass announcement have been overwhelmingly positive. Some fans of R6S have been encouraging new players to pick it up as soon as they can. Others are commending Xbox for loading up Game Pass with a number of multiplayer games. Not only is it a great value for current Xbox Game Pass subscribers, but it also means that more people may flock to the service for affordable multiplayer experiences. Even gamers who aren't the biggest fans of shooters are excited to see a popular game like Rainbow Six Siege being added to Game Pass.
It's safe to say that plenty of people will be checking out Rainbow Six Siege — whether they're returning fans or new players — when it launches for Xbox Game Pass later this week.