This Rainbow Six Siege Clone Is Causing An Uproar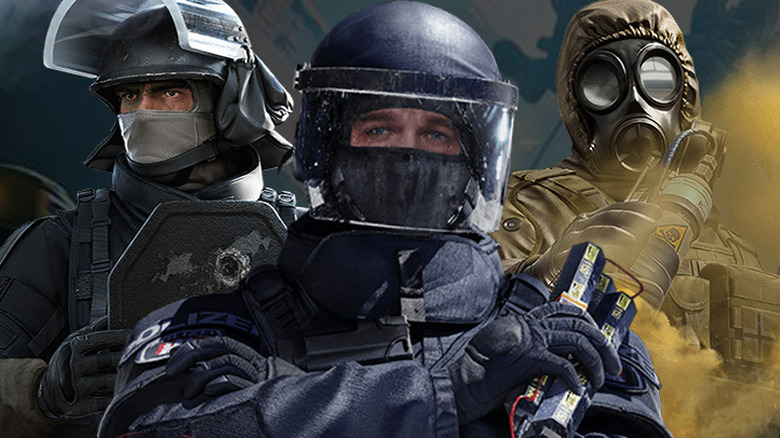 Ubisoft has thrown the gauntlet down in response to an apparent knock-off of its mega-popular Rainbow Six Siege. According to a report from Bloomberg, Ubisoft is suing Google and Apple for distributing a game called Area F2. The company feels that its intellectual property is being exploited to gain sales from a competing game. The company especially took issues with AF2's design choices, which Ubisoft claims are lifted wholesale from Rainbow Six Siege.
"R6S is among the most popular competitive multiplayer games in the world, and is among Ubisoft's most valuable intellectual properties," said Ubisoft. "Virtually every aspect of AF2 is copied from R6S, from the operator selection screen to the final scoring screen, and everything in between."
What's interesting to note here is that Ubisoft doesn't appear to be pursuing legal action against the actual developers of Area F2 – at least not yet. 
This isn't the first time in recent memory that we've seen an uproar over video game clones. Last year, the announcement of action RPG Genshin Impact was met with a ton of backlash from Legend of Zelda fans. That's because the game appeared to be a massive ripoff of Breath of the Wild's design aesthetics and gameplay. Everything about the game appeared to be an attempt at making Breath of the Wild with an anime facelift. This famously led to one angry Zelda fan smashing his PlayStation 4 in a public display of protest over the game. 
Fans don't tend to take too kindly to seeing their favorite properties being copied, and it appears as though Ubisoft feels similarly. It's unclear how far this lawsuit will go, but it doesn't seem like Ubisoft is going to let this go without some kind of a fight. Normally, one would expect to see the fans of Rainbow Six Siege supporting this move from Ubisoft. However, it's worth mentioning that the gaming community seems disappointed by the news of this lawsuit. Area F2 apparently has something of a decent following online, at least according to the responses we've seen on Twitter.
One YouTuber wrote, "This is really sad news ... Area F2 had so much potential and it was growing super fast too. I'm sorry for all the players and creators who dedicated their time towards this game and hopefully something similar to AF2 releases soon. In short, Ubisoft is seeing [sic] for copyright of R6." 
Of course, Ubisoft would probably argue that something similar to Area F2 has already been released; it's called Rainbow Six Siege. That's precisely the reason the company is pursuing this lawsuit in the first place. Then again, some fans have argued that Area F2 was actually filling a tactical shooter void for them. One fan pointed out that there isn't currently a Rainbow Six Siege mobile game. They seemed to feel like Ubisoft should follow the example set by Activision when it released Call of Duty Mobile. It appears that Area F2 was scratching an itch for many gamers who enjoy games like Rainbow Six Siege.
According to IGN's Jordan Oloman, Area F2 has already been downloaded "millions of times" and seems to be a hit with players. This could be because the similarities between AF2 and RS6 are so immediately obvious. As Oloman explains, "the resemblance is striking, with maps, loadouts and more feeling instantly familiar to a Siege player."
Despite the amount of players being pulled toward Area F2, the lack of a mobile version hasn't really stopped Rainbow Six Siege from being a massive success. According to a report from VentureBeat last year, Rainbow Six Siege had already made over one billion dollars for Ubisoft. Then again, it could be argued that the game could be even bigger if it were ported to mobile. After all, Fortnite's mobile versions alone recently crossed the one billion dollar mark, so there's no telling how much of an audience share Rainbow Six Siege could be currently missing out on.
As of right now, neither Apple nor Google have responded to Bloomberg's requests for a comment on the lawsuit. Likewise, the game's publisher, Alibaba, has yet to weigh in on the issue. We'll keep an eye on this lawsuit as it develops. 
As of right now, the distribution of Area F2 does not seem to have been affected by the impending lawsuit. In fact, the game is still available on both the Google Play Store and the App Store. Fans of the game will likely continue to support it until such time as its fate is decided. Compared to other apparent "clone" games, it appears that Area F2 has plenty of people in its corner.