The Real Reason These Xbox Store Game Covers Are All Wrong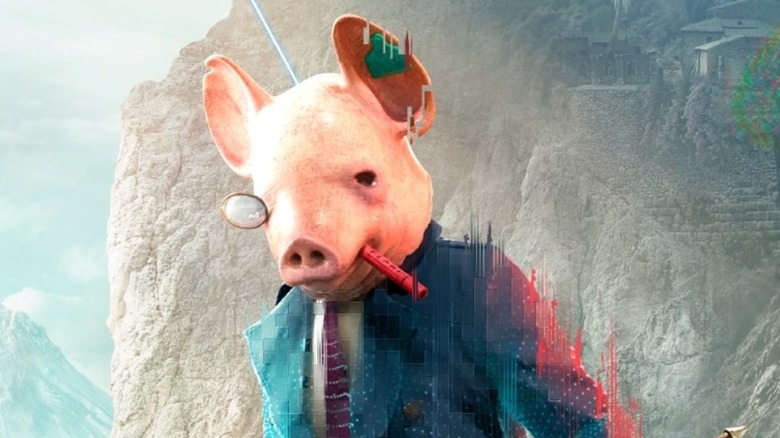 Ubisoft
If you logged into the Xbox Store today and saw that a ton of your favorite games suddenly had defaced cover art, don't panic. You haven't been hacked and neither has the Xbox Store. What you have just stumbled onto is a pretty brilliant bit of viral marketing for the upcoming Watch Dogs: Legion. Not only that, but there's a fantastic sale connected to this apparent act of digital vandalism.
Ubisoft is obviously putting a ton of effort into promoting the impending release of Watch Dogs: Legion. As a way of reminding gamers of Legion's anarchic tone, all of Ubisoft's games in the Xbox Store have seemingly had their cover art blanketed in digital graffiti. Several of these "hacked" video game covers have been shared by Wario64 on Twitter, and they're all pretty clever.
Ubisoft is updating their [hacked] game cover arts on XBL to promote Watch Dogs Legion pic.twitter.com/gchIbCvn1X

— Wario64 (@Wario64) October 21, 2020
The cover art for Assassin's Creed: The Ezio Collection depicts the titular character with a giant pig mask on his head. Ezio's outfit appears to be digitized in some way and he's also holding a cell phone in one hand, something that the assassin character has definitely never had before. The cover art for Rainbow Six Siege looks as though it has been tagged with decals. Each of the characters on the cover have different stickers over their faces, including a skull and another pig design. Ghost Recon Breakpoint has received a similar treatment to The Ezio Collection, complete with digitized clothes and a disconcerting pig mask.
The reactions to these "hacked" versions of Ubisoft's games have been mixed, but mostly positive. At least a few people felt that these altered game covers were corny, while others considered it to be a clever way to market the new Watch Dogs game. 
Shortly after the post from Wario64 began to make the rounds on Twitter, Xbox Wire made an official blog post to announce the "hack" of the Microsoft Store. Included in the announcement was a look at several other Ubisoft games that have had their covers altered, including Far Cry 5, For Honor, and Assassin's Creed Odyssey. The Assassin's Creed Odyssey design might be the most interesting, since it also includes a small drone being hacked by the lead character, which definitely stands out against the rest of the cover's more ancient design elements.
According to Xbox Wire, Ubisoft's games will continue to have these Watch Dogs-centric designs throughout a major sale. The blog read, "To ensure you're ready to take back London, here's a special welcome package: from October 22 to November 5, Watch Dogs: Legion is hacking the Microsoft Store to unlock special discounts on popular Ubisoft games including Assassin's Creed Odyssey, Far Cry 5, and many more — all for you!"
In addition to the big discounts, Ubisoft and Xbox have teamed up for a rewards program based entirely around Watch Dogs: Legion. "Your mission is simple: earn Microsoft Rewards points with three Watch Dogs: Legion punch cards through the Microsoft Rewards app on your Xbox console as you ready to take back London," explained the blog post.
Players can earn Microsoft Rewards points by purchasing games during the Hack Sale, buying any version of Watch Dogs: Legion, and earning any achievement while playing Watch Dogs: Legion. This promotion is another sign that Microsoft and Ubisoft are going all-in to promote the release of the latest entry in the Watch Dogs series. Having either a sale, a points system, or some kind of viral gimmick would be enough, but to do all three takes some pretty detailed planning. Meanwhile, Ubisoft is also running a giveaway on its own website, with a grand prize that includes a collector's edition of Watch Dogs: Legion, a brand new NVIDIA graphics card, and more. Basically, it's a good time to be a Watch Dogs fan.
Watch Dogs: Legion is the third installment in the franchise, and it opens up the world of the games considerably. Legion follows the exploits of the members of elite hacker group DedSec as they fight to free London from the crooked corporations that run it. The game will allow players to recruit allies, turning ordinary London citizens into full members of DedSec. Legion's playable characters all have varying abilities and weaknesses, including one unfortunate fellow who can literally die at random.
Watch Dogs: Legion will be launching Oct. 29 for the Xbox One, PlayStation 4, Google Stadia, and Window PC (via the Epic Games Store). The Xbox Series X version will launch alongside that console on Nov. 10. Unfortunately for fans who have preordered Sony's next-gen console, the PS5 version of Watch Dogs: Legion won't be released until Nov. 24, due to this game being a timed exclusive for the Series X.