How Immortals: Fenyx Rising Really Compares To Breath Of The Wild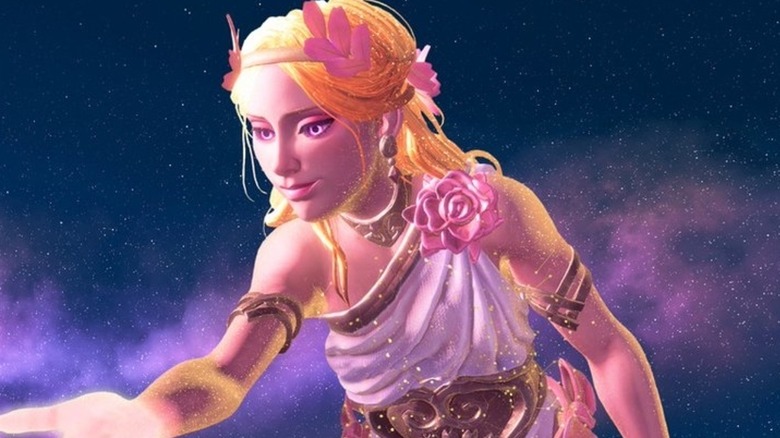 Ubisoft
Immortals: Fenyx Rising has proven to be a surprisingly controversial game within the last couple of months. With the recent release of a demo for Immortals: Fenyx Rising, reviews have begun to roll in that seem to indicate that gamers will be pleasantly surprised by Ubisoft's mythological action RPG.
Immortals: Fenyx Rising caused a bit of an uproar when it was announced, mainly because it was originally an entirely different game. Immortals: Fenyx Rising began development under the name Gods & Monsters, and it featured a noticeably different visual style. Gamers who were excited for the original version of the game were disappointed, and many couldn't help but notice that Immortals bore a significant resemblance to The Legend of Zelda: Breath of the Wild. While video game clones are certainly nothing new, it was certainly off-putting for many fans to see an original game seemingly being transformed into a knock-off in the middle of development.
To make matters worse, early hands-on impressions were lukewarm at best. While Game Informer reported satisfaction with Immortals' combat mechanics, the puzzles were found to be "more tedious than fun." Likewise, NME felt that the game didn't live up to the standards of the Zelda game it was seemingly emulating.
In the past week, however, journalists have gotten an opportunity to play more of Immortals: Fenyx Rising, and it seems that Ubisoft has worked out many of the game's kinks. At the very least, critics are mostly able to look past the BotW comparisons and are enjoying what Immortals has to offer.
PC Gamer's review gave Immortals: Fenyx Rising a bit of grief for how closely it followed Breath of the Wild when it came to the game's puzzle solving sections. Many of the puzzles in Immortals: Fenyx Rising are physics-based, which allows for a good deal of improvisation and ingenuity on the part of the player, much like those seen in BotW. PC Gamer's Andy Kelly felt that the puzzles were fairly easy in Immortals: Fenyx Rising, but also noted that he was still early into his playthrough. Kelly also remarked upon the game's wicked sense of humor, which is frequently displayed through the comedic narration from characters like Zeus and Prometheus.
Kelly didn't give the game any slack when it came to copying Breath of the Wild's successes, but he ultimately seemed pleased with the game on its own merits. Kelly concluded, "Occasionally the similarities to BotW are fairly shameless, but the game carves enough of its own personality out of the base material to not feel like a total facsimile. It's not quite in the same class as Zelda, but come on, that's a hard act for anyone to follow."
Kotaku's Zack Zweizen definitely agreed with the Breath of the Wild comparisons. However, he also found that Immortals: Fenyx Rising shared some DNA with another major Ubisoft release: Assassin's Creed: Odyssey. The combat apparently feels very similar to that of the Assassin's Creed series, and Immortals also allows gamers to stealthily sneak up on enemies and take them out without causing a ruckus. Zwiezen wasn't quite as keen on Immortals' comedic script, but did note that some of the game's more over the top moments elicited laughs from him.
Reviewing an early PC build for the game, NintendoLife praised the customization options available when creating the player character, as well as how different upgrades throughout the game can change their appearance and stats in interesting ways. NintendoLife also commented on how vibrant and crisp the graphics and design elements of the game were, writing, "There's no denying Immortals: Fenyx Rising is one of the best looking games we've seen in a long time. From it's lush and magical environments, to it's almost Pixar quality cutscenes, our jaws were on the floor even while having just streamed the game at a lower resolution from Ubisoft's servers than we'd expect to see in person."
The backlash against Immortals: Fenyx Rising is highly reminiscent of the uphill battle this year's Genshin Impact had following its announcement. MiHoYo's own cel-shaded RPG was considered to be a Breath of the Wild clone by Zelda fans, with one gamer publicly destroying his PS4 on the showfloor at China Joy 2019 out of protest. The developers of Genshin Impact acknowledged the influence that Breath of the Wild had on their own game, but felt that it was different enough to stand on its own. Sure enough, the release of Genshin Impact was met with most positive reviews from critics. While Genshin Impact's comparisons to Breath of the Wild were certainly noticeable, reviewers were pleased to find that it had its own unique combat system and sense of style. It seemed almost impossible that a free-to-play game like Genshin Impact had so much to offer.
Immortals: Fenyx Rising is also yet another game that has apparently proven to be more than just the Breath of the Wild clone that it appears to be. Hopefully the fans will agree when it arrives later this year.
The demo for Immortals: Fenyx Rising is available now through Google Stadia.