What Cloud Streaming Sticks Could Mean For The Future Of Xbox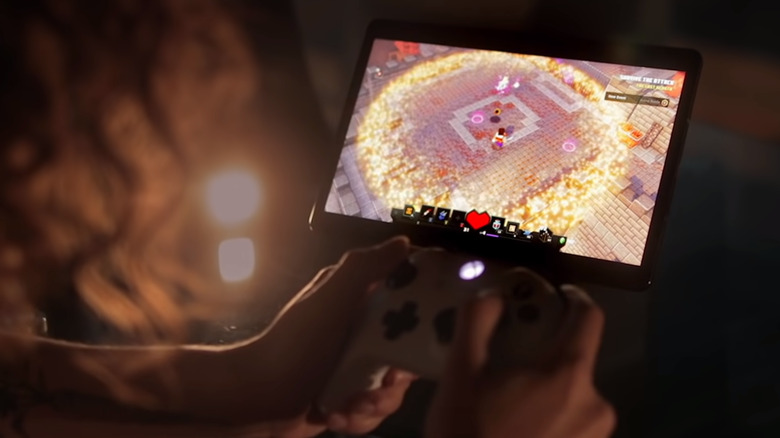 Xbox
Head of Xbox Phil Spencer has hinted that Microsoft may make streaming sticks available as part of its Xbox Game Pass. The bundled device would be designed to stream games through Microsoft's cloud gaming service, xCloud.
Advertisement
In an interview with Stratechery (via The Verge) that tackled topics such as Xbox's future strategy and how gaming has changed at Microsoft, Spencer teased the hypothetical device. A piece of hardware like this one would make it possible for people to play games on their TV sets without having to buy expensive console systems.
"I think you're going to see lower priced hardware as part of our ecosystem when you think about streaming sticks and other things that somebody might want to just go plug into their TV and go play via xCloud," Spencer told the publication. "You could imagine us even having something that we just included in the Game Pass subscription that gave you an ability to stream xCloud games to your television and buying the controller."
Advertisement
Microsoft has long been interested in the possibilities of streaming technology: it showed off a Halo 4 cloud stream in 2013 and reportedly canceled its Chromecast-style Xbox TV streaming device in 2016. Despite that setback, it finally brought xCloud to Game Pass in mid-September 2020. That offering has now been incorporated into the company's subscription services.
The current subscription setup at Microsoft starts with the Xbox Live Gold subscription, which costs $9.99 per month (lower if you pay for multiple months). With this, you only have access to multiplayer games, discounts, and the free games that Microsoft releases each month. Xbox Game Pass is the next tier for $9.99, offering more than 100 games for PC, Xbox, and Android devices via download and through xCloud. Microsoft also offers the Xbox Game Pass Ultimate for $14.99. This includes Game Pass benefits and an Xbox Live Gold subscription but adds more than 100 games, along with exclusive discounts and offers. 
When pre-orders for the Series X|S opened, Microsoft added an Xbox All Access plan, a hardware/software bundle in which subscribers get an Xbox Series X or S and 24 months of Xbox Game Pass Ultimate for the price of $24.99-$34.99 per month over 24 months. In the Stratechery interview, Spencer noted that his team had considered something similar called the "Xbox Game Pass Platinum" that would feature guaranteed access to new hardware when it releases. It sounds like the company might be open to similar scenarios in the future. 
Advertisement
Spencer has long been a proponent of a games-first approach. "We want to enable you to play the games you want to play, with the friends you want to play with, on any device," he said in an interview with GamesIndustry. "Gaming is about entertainment and community and diversion and learning new stories and new perspectives, and I find it completely counter to what gaming is about to say that part of that is to lock people away from being able to experience those games. Or to force someone to buy my specific device on the day that I want them to go buy it, in order to partake in what gaming is about."
The idea of a streaming stick dovetails into this philosophy nicely. It also plays into the future of the Xbox gaming environment, which is reportedly set to get bigger in 2021 with an expansion to iOS devices through a browser-based system, as well as a debut on Facebook Gaming.
So far, Microsoft's strategy seems to be working. The Xbox Game Pass rivals the Xbox Series X|S in sheer hype, and Microsoft announced in September (in a press release about its acquisition of Bethesda Softworks) that the service had reached a milestone of 15 million subscribers — and that was before adding Bethesda's properties to the mix. Those games include the Doom franchise, the Wolfenstein franchise, The Elder Scrolls series, and the upcoming Starfield. 
Advertisement
The 15 million Xbox Game Pass subscribers milestone also came before Microsoft announced the addition of an EA Play membership to Game Pass Ultimate, adding Electronic Arts' major sports franchises, Mass Effect games, Battlefield games, Crysis titles, Dead Space and more to the mix. This perk begins Nov. 10 for Xbox players and in December for PC members.
In other words, it's very possible that the future of the Xbox means playing a whole bunch of games anywhere, anytime, on any system, whether you own a $499 console or not — all for a low monthly price. Whether Microsoft's streaming stick becomes a reality, it's clear that Spencer and Xbox are committed to the idea of making games available to as many people as possible, on whatever platform they most prefer.