New PS5 Trophies Are Turning Heads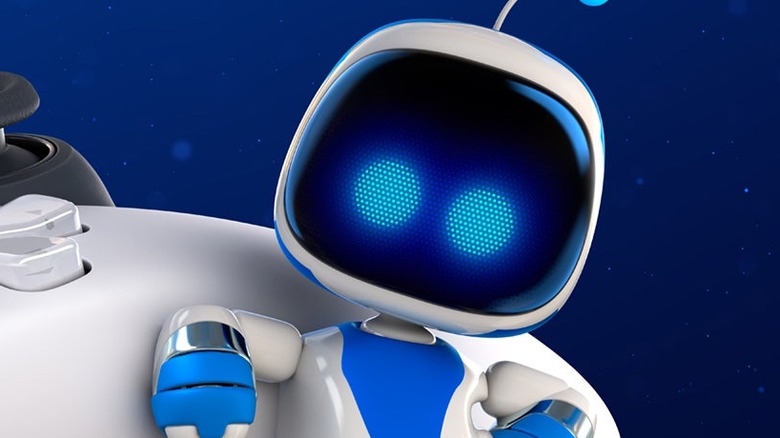 Sony Interactive Entertainment
The release of the PlayStation 5 is mere weeks away, and gamers are still learning exciting new things about it. Reviewers who have gone hands-on with the new consoles have recently discovered the cool new way that the PS5 records Trophies.
The PS5's new Trophy system was featured in a video by Kinda Funny's Greg Miller. While reviewing the critically-acclaimed Astro's Playroom, Miller realized that getting his first PS5 Trophy would obviously be "a big deal." He decided to record the moment when it happened. Unfortunately, his recording software corrupted and he was positive that he had lost all of his footage. However, Miller came to discover something very interesting about how the PS5 records trophies.
"On PlayStation 4, you'd pop a Trophy and it would save a screenshot of the moment, right? ... It happens again on PlayStation 5 in a completely different manner," Miller explained.
Rather than simply take a static screenshot of the Trophy being collected, the new console saves a full video clip of the moments leading up to when the Trophy is obtained, as well as the victory itself. This can be seen in a clip shared by Miller of his Astro's Playroom gameplay. Astro is shown approaching a collectible and then snagging it, triggering the name of the Trophy to pop up on the screen. 
In addition, Trophy clips saved to the PS5 have a fun banner along the bottom of the screen, which show the Trophy itself, an icon representing the captured moment, and the name of the Trophy that was earned. PlayStation has even redesigned the appearance of the Trophies, with the bronze Trophy obtained by Miller looking taller and sleeker than ever before.
As pointed out by PlayStation Lifestyle's Brianna Reeves, PS4's trophy screenshots could sometimes be totally unremarkable, or even downright bad. "Sometimes the [PS4[ captures are pretty good, perhaps even good enough to share on social media," Reeves wrote. "More often than not, though, the screenshot will merely showcase a black screen or an awkward camera angle."
On the other hand, Greg Miller contends that this new Trophy system seems tailor-made for sharing moments in social media. "I think this is totally cool. I can't wait to get my first Platinum," Miller said. "Think about that, too, of how much more exciting this is to share on Twitter ... of putting it up there and having this built-in graphics package on it. Shout out to you, PlayStation."
For those of you who love the screenshots, don't worry — the PS5 still does that, too.
Of course, Miller's video did leave a few things up in the air for inquisitive fans. One of the biggest concerns surrounding this new Trophy system is a question of storage space. As one Twitter user pointed out, it could be useful to have the option of only saving higher-tier Trophies to the console's memory. Those 15-second clips are going to add up mighty fast, especially if you're a Trophy-seeking completionist. Then again, it has also been pointed out that PS5 owners will have the option of saving these achievement clips to the cloud, as well.
Other fans have been concerned with whether or not this new Trophy system will work for backwards-compatible games. As one user remarked, this will more than likely still work for backwards-compatible games, simply because this Trophy recording feature is a part of the PS5 console's UI.
For the most part, fans are just excited to see the new innovations in how Trophies work on the PS5. One YouTube commenter replied that they couldn't wait to see all the montages full of PS5 Trophy clips.
While the reactions to the new Trophy system have been positive, there is another way in which PS5 Trophies have recently been gaining attention. Insomniac Games recently released a Trophy list for Spider-Man: Miles Morales, and it's looking like gamers may have a difficult time finding every Trophy in the game. It should be noted Insomniac Games has only released a partial list, meaning there are even more Trophies to earn outside of the lengthy list seen on Insomniac's Twitter. Meanwhile, some fans have pointed out that a few of the Trophies seem like they'd be easy to miss on a first go. This could necessitate playing through specific scenes multiple times to get some of the Trophies.
Snagging some upcoming Trophies may prove to be a bit of a slog, but at least the PS5's automatic recording system could make that effort feel worth it. Now you can replay that moment of victory again and again.
The PlayStation 5 and PS5 Digital Edition will be released Nov. 12, 2020.