The Sad Truth About PS5 Faceplates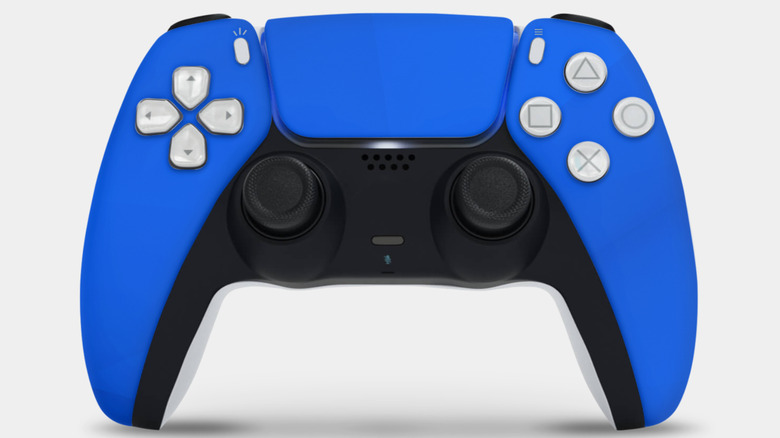 Customize My Plates
Last week, it looked like the PS5 was getting more color options. Gamers were very excited to learn about the existence of PlateStation, a company that specialized in making custom faceplates to replace the standard ones attached to the PlayStation 5. PlateStation offered multiple variants, including faceplates in sleek matte black, camo, and bright red color schemes. Unfortunately, PlateStation quickly ran into issues and was forced to change its name to Customize My Plates. The trouble did not end there for the company, however. 
IGN recently reached out to Customize My Plates to get to the bottom of its name change. According to Customize My Plates, the change was necessitated after a few threats concerning legal action. Customize My Plates explained to IGN, "a certain console provider's lawyer recently 'suggested' a few changes to our website." In other words, it sounds like someone from Sony's legal team suggested that Customize My Plates change its name and website to further distance the company from official PlayStation products. 
After this initial warning, PlateStation became Customize My Plates, with a domain change to CustomizeMyPlates.com. There was some initial confusion surrounding how quiet the company had been on social media, prompting Customize My Plates to finally make a post to explain the changes. Customize My Plates told customers that there would be an approximate three-week delay to all orders while the team worked to make sure it wasn't violating any copyright laws. 
Customize My Plates also told customers that anyone who wanted a refund after the delay announcement would receive one. Before long, the team at Customize My Plates had already fully processed over $20,000 in refunds.
This whole debacle also had the unfortunate side-effect of some customers accusing Customize My Plates of running a scam of some kind. However, Customize My Plates has promised to resolve any customer issues.
During all of this, a rep from Customize My Plates named Adam was in contact with IGN. In light of all of the refunds, Adam wrote, "It truly sucks not coming through for them. We can only say we're sorry and that it won't happen again. We've suspended all sales. When they go live again, every single one will be fulfilled without fail, without delay."
The hope was that customers would see Customize My Plates' willingness to be open and honest about the delay, and that would help the business' standing going forward. Customize My Plates told IGN, "When the plates hit, there will be no doubt. We're here for the long haul."
Unfortunately, it appears as though Customize My Plates' efforts were not enough to ease Sony's concerns. Following continued discussions with Sony's legal team, Customize My Plates has decided that it will no longer manufacture faceplates for the PlayStation 5. IGN explained that Customize My Plates unfortunately discovered that "trademarks for PS5's removable plates are too complex for a small team to navigate without risk of legal infringement." 
Rather than risk a lawsuit, the company has plans to change the kinds of goods it offers, while still staying firmly planted in the video game industry. The company will now sell vinyl skins for PS5 consoles and DualSense controllers, rather than full custom faceplates. Sadly, while this means the company will stay active, it also means that Customize My Plates has been forced to cancel all remaining preorders for its custom faceplates. Refunds are being issued for the orders that have already been placed. Some customers are complaining that their refunds have not been processed yet, but the Customize My Plates Twitter account assured followers the company is working on it.
While gamers who have previously placed orders with Customize My Plates have been disappointed by the latest news, others are trying to stay more optimistic. As one user on Twitter pointed out, Sony most likely designed the faceplates on the new console so that they could eventually be swapped out. Yes, the ability to remove the faceplate also makes the system much easier to clean, as could be seen when Sony showed off the inside of the PS5. However, Sony would be missing out on an entire stream of revenue by not offering alternate faceplates in the future. It's highly likely that this won't be the only opportunity for fans to get different-colored faceplates for their PS5s. 
As for Customize My Plates, it seems that the company is already adapting to the forced changes in its business model. In addition to the vinyl skins, Customize My Plates has also moved into selling other accessories, like gaming chairs and cooling fans.