What To Expect From Fortnite's Next-Gen Upgrade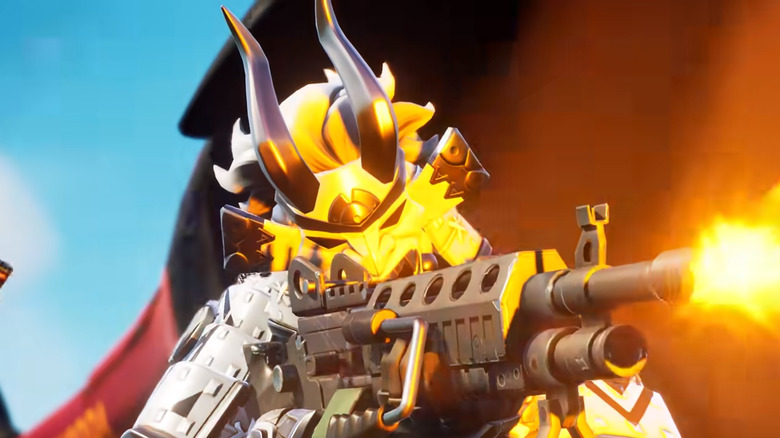 Epic Games
The releases of the next-generation console systems from Microsoft and Sony are imminent. This not only means new games, but upgrades for older titles that will be making the switch over to the Xbox Series X|S and PlayStation 5. Fortnite is one of these games, and it'll be available for each system on its launch date — Nov. 10 and Nov. 12, respectively. When they arrive, Fortnite will see improvements such as faster loading times and visual and performance enhancements.
Epic Games announced back in May that Fortnite would be optimized "to take advantage of the new hardware and features on next-gen consoles." It said that the game would support cross-progression across generations and platforms. Additionally, the version that is now on Unreal Engine 4 is going to migrate to Unreal Engine 5 in mid-2021. However, Epic has now provided additional details to inform fans exactly what will be in store for them once they log onto their new game systems for the first time.
Epic Games clarified these new versions aren't just "tweaked last-gen builds but new native ones to harness the power of the new consoles." For the Xbox Series X, improvements available on Day 1 include 4K resolution at 60 frames per second with more dynamic visuals and physics. Expect enhanced simulations for smoke and liquid, along with new storm and cloud effects. On the Xbox Series S, you'll still get 1080p resolution at 60 FPS and most of the visual changes available for the Series X. You'll be able to enter matches faster from game start-up and texture loading will be better. Additionally, enhanced 60 FPS split-screen will be available.
On the PlayStation 5, you'll also get 4K resolution at 60 FPS. Visual enhancements will make the game more dynamic; expect grass and trees to respond to explosions, cooler smoke and liquid effects, and storm and cloud effects. You'll also be able to experience the haptic feedback from the new DualSense Controllers, which will offer general vibration support and haptic trigger feedback for ranged weapons. The Suppressed SMG and Bolt-Action Sniper Rifle will especially benefit from these new and immersive controls. The PlayStation 5 will allow players to get straight into the Battle Royale Lobby with Solo, Duos, or Squads selections in place. Not only will loading times be faster, but you'll enter matches much more quickly. As with the Xbox, split screen is now in 60 FPS as well.
Both systems allow you to transfer easily between generations once you download the new version of Fortnite onto your PlayStation 5 or Xbox Series X|S. On the new Xbox consoles, you can simply transfer your Xbox profile from your previous generation. On the PlayStation 5, you can log into your Epic Games or PlayStation Network account to access progression information and your items.
If you're not planning to get a PS5 or Xbox Series just yet, don't despair. Fortnite will continue to support play on all existing platforms. Plus, everyone gets a bonus starting Nov. 4 no matter which platform they use to play Fortnite. The classic default Pickaxe from Fortnite Chapter 1 will be available for free through Jan. 15, 2021 in-game and via the PlayStation Store.
Right now, Fortnite is in the middle of its Halloween-style Fortnitemares 2020: Midas' Revenge event, which allows players to explore the afterlife until Nov. 3. If all goes according to plan, the next-generation update will arrive just in time for the start of a new Fortnite season: the Epic Games website says the current Battle Pass expires on Nov. 30. This means players can expect to enjoy those upgraded console features with new Fortnite content in December.
It's too early to know for sure what Chapter 2 – Season 5 will entail, but it's not hard to imagine that a big battle is coming and the super-villain Galactus, Destroyer of Worlds, will play a larger role now that he's been spotted in the skies of the Fortnite map. The current season debuted on Aug. 27, so it's definitely time for a few changes to refresh the gameplay.