The Real Reason This Xbox Series X Launch Title Is So Cheap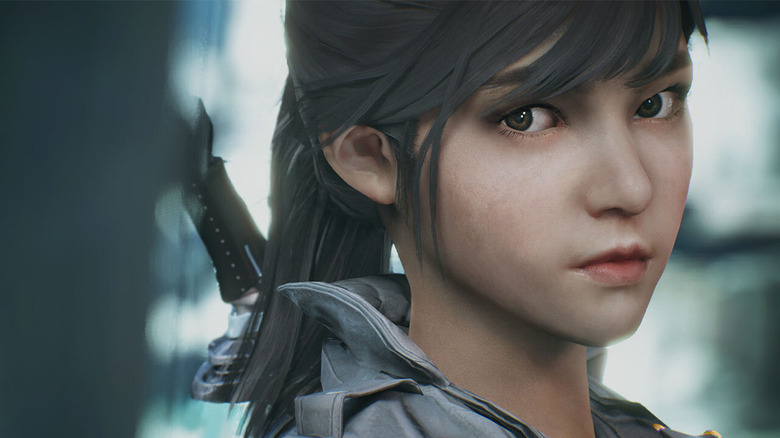 AGM Playism
We may receive a commission on purchases made from links.
The impending launch of Microsoft's next-gen Xbox Series X and S consoles is just a week away. Major outlets and popular influencers have already spent some time with the new machines, plus a slew of publishers and developers have showcased their upcoming titles on the latest Xbox hardware.
For those who managed to secure an Xbox Series X or S, it's quite likely that you're mapping out your incoming machine's launch day lineup. While it might be light on true next-gen experiences and notable console exclusives, there's still an exciting array of games worth checking out. One of the titles that will be available on Nov. 10 for Xbox Series X|S is AGM Playism's first-person shooter, Bright Memory. 
Players can pick up Bright Memory on Xbox Series X|S for just $7.99, which comes as a shock considering the prices of other next-gen titles. Some of the launch games' prices stay in the realm of $59.99, while other titles reflect the new standard of pricing at $69.99. For example, Gears Tactics costs $59.99 and Call of Duty: Black Ops – Cold War retails for $69.99. Judging by the landscape of Xbox Series X|S launch titles, it appears Bright Memory may take the honor of being the cheapest of them all — and there's a good reason for that low asking price.
According to HowLongToBeat, it should only take a total of two and a half hours to see and accomplish what Bright Memory has to offer. Due to that incredibly short run time, it seems like the low price is reflective of that. While offering a brief overall experience, Bright Memory has garnered a very positive rating from the thousands of players who've given it a chance on Steam. The game's gorgeous visuals, fast-paced combat, and enticing plot offers a reportedly satisfying combination of elements that make Bright Memory a memorable FPS worth checking out. What's even more impressive about this shooter is the fact that it was developed by the Chinese one-man studio known as FYQD, which relied on the Unreal Engine to produce the game.
As far as the game's plot goes, Bright Memory lets players command the combat prowess of a young woman named Shelia. In the year 2020, Shelia works as an agent on behalf of the SRO (Supernatural Science Research Organization) in a bid to eliminate an army of reanimated beasts and corpses on a mysterious location called the Floating Island. An accident caused by a terrorist organization called the SAI causes Shelia and everyone in her vicinity to get transported to the island, which kicks off an adventure that incorporates elements of science fiction and Chinese culture.
Bright Memory is just the first episode within the new FPS franchise, however. Some may recall an Xbox showcase that provided some screen time for Bright Memory: Infinite, which will act as the aforementioned game's follow-up. Infinite's storyline breakdown via the official Microsoft Xbox site notes that it takes place several years after its predecessor "in a sprawling, futuristic metropolis in the year 2036." Much like the original release, the sequel will incorporate SRO and its investigation into a number of mysteries that affect the world.
While Bright Memory will be playable on Xbox Series X|S on Nov. 10, Bright Memory: Infinite will launch sometime in 2021. Bright Memory isn't the only Xbox console exclusive releasing in 2020, however. Development studio Bloober Team's psychological horror game The Medium is next up with a Dec. 10 launch. As soon as it releases, Xbox Game Pass subscribers can check it out for themselves as it will be available through the popular games service.
When it comes to the announced titles slated to come to Xbox Series X|S in the future, several Microsoft first-party IP's are headed to the party. Halo Infinite, Fable, State of Decay 3, Forza Motorsport, etc. are among the many console exclusives that should arrive sometime in 2021 and beyond.