We Finally Know The Full Series X Launch Lineup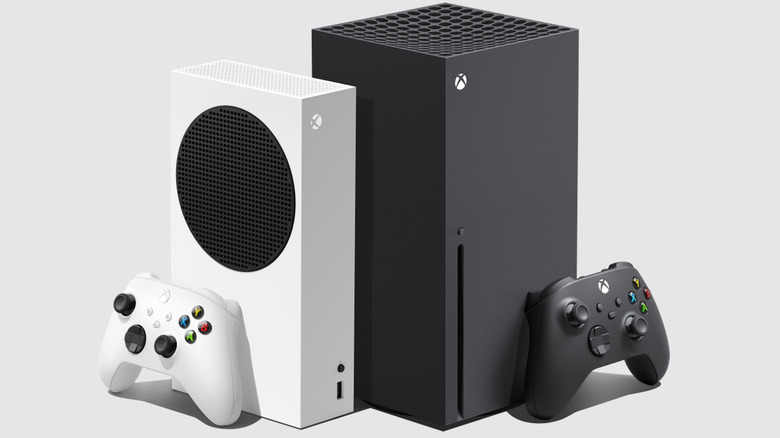 When going into a new generation of consoles, launch lineups weigh heavily on the minds of gamers. This year's launch of new consoles in particular has been a roller coaster of last-minute information, but Xbox has finally laid out the games coming to Xbox Series X and S. Microsoft does not have exclusive titles at launch, due to the delay of Halo Infinite, but they do offer 30 titles, 20 of which are a result of Smart Delivery and backward compatibility. Will Tuttle, the editor in chief of Xbox Wire, said that Xbox is the best place to play, and every launch game is optimized for the Series X/S: "The Xbox Series X and Xbox Series S day one lineup reflects this incredible ingenuity — bringing you a creative, diverse and deep collection of iconic, inventive, and critically-acclaimed games from amazing creators around the world."
Some of the bigger titles include Assassin's Creed: Valhalla, an open-world RPG about a clan of Vikings and their journey to England, Watch Dogs Legion, another open-world Ubisoft game about recruiting any NPC into the hacker group DedSec, Tetris Effect: Connected, a multiplayer take on the musically inclined Tetris Effect, and Gears 5, an Xbox-exclusive third-person shooter. The full list of games is as follows, courtesy of Xbox:

Assassin's Creed: Valhalla (Smart Delivery)

Borderlands 3 (Smart Delivery)
Bright Memory 1.0

Cuisine Royale (Smart Delivery)

Dead By Daylight (Xbox Game Pass/Smart Delivery)
Devil May Cry 5: Special Edition

DIRT 5 (Smart Delivery)
Enlisted
Evergate

The Falconeer (Smart Delivery)
Fortnite

Forza Horizon 4 (Xbox Game Pass/Smart Delivery)

Gears 5 (Xbox Game Pass/Smart Delivery)

Gears Tactics (Xbox Game Pass/Smart Delivery)

Grounded (Xbox Game Pass/Smart Delivery)

King Oddball (Smart Delivery)

Maneater (Smart Delivery)

Manifold Garden (Smart Delivery) 
NBA 2K21

Observer: System Redux 

Ori and The Will of the Wisps (Xbox Game Pass/Smart Delivery)

Planet Coaster (Smart Delivery)

Sea of Thieves  (Xbox Game Pass/Smart Delivery)

Tetris Effect: Connected (Xbox Game Pass/Smart Delivery)

The Touryst  (Xbox Game Pass/Smart Delivery)

War Thunder (Smart Delivery)
Warhammer: Chaosbane Slayer Edition 

Watch Dogs: Legion (Smart Delivery)

WRC 9 FIA World Rally Championship (Smart Delivery)

Yakuza: Like a Dragon (Smart Delivery)

Yes, Your Grace (Smart Deliver)
In comparison, the Xbox One launched with 21 games, but it offered more exclusives in Forza Motorsport 5, Killer Instinct, and Ryse: Son of Rome. Of course, Xbox Game Pass expands the Xbox Series X/S library with over 100 games that can be played across the Xbox family and PC. Game Pass recently entered a partnership with EA play, which brings games like Titanfall 2, The Sims, and Mass Effect to the subscription service. 
In addition, Xbox is expecting some major games to release within the Series X/S launch window. Call Of Duty: Black Ops Cold War releases three days after console launch on November 13 and features the classic zombies, campaign, and multiplayer modes. Cyberpunk 2077, the next open-world RPG from the minds behind The Witcher 3: Wild Hunt, releases on November 19, and Destiny 2: Beyond Light launches on November 10 but won't be optimized for the next-generation consoles until December 8. 
On the exclusive front, horror game The Medium releases on December 10, which has players experience two realities at the same time. Looking beyond the launch window, Xbox gamers are anticipating Halo Infinite in 2021 and the outcome of Microsoft's acquisition of Bethesda. There is a lot of speculation about Bethesda games like The Elder Scrolls being Xbox exclusives or simply another addition to Xbox Game Pass. Phil Spencer, the head of Xbox, said Bethesda exclusivity will be determined on a "case-by-case basis." 
Outside of games, reports indicate that the Series X can load into games exceptionally fast, and the Quick Resume feature allows players to switch between multiple games seamlessly. Gamers can experience these features and the optimized launch lineup when the Series X/S launches on November 10.