These Rockstar Games Will Be Backward Compatible On PS5 And Series X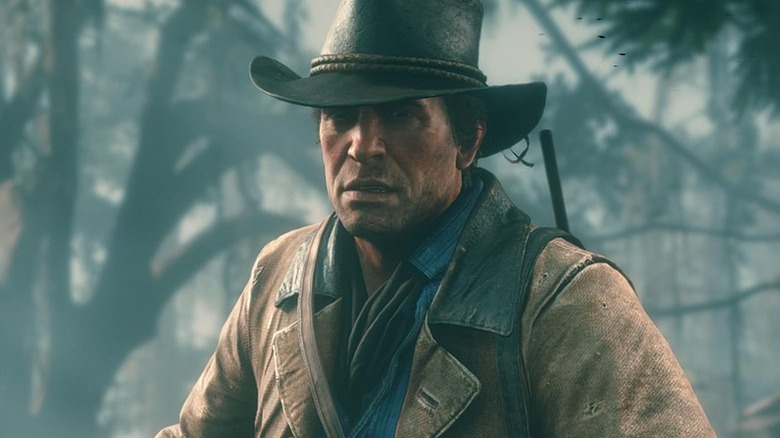 Rockstar Games
The next-generation of gaming is right around the corner. Come November 10, Microsoft will release the Xbox Series X|S. And on November 12, Sony will finally drop the PlayStation 5.
Both consoles have been getting a lot of positive feedback due to a number of impressive features, including backwards compatibility. Xbox One and PS4 owners won't have to worry too much about leaving their old library of games behind since most of them are compatible with next-gen devices. Fans of Rockstar Games will be extremely happy to know that titles they've poured hundreds of hours into are a part of that backward compatible lineup.
Advertisement
Rockstar made an official blog post that revealed how its titles will be affected by next-gen backward compatibility. The Xbox One and PS4 versions of Grand Theft Auto V, Red Dead Redemption 2, and L.A. Noire will work on Xbox Series X|S and PS5. The PlayStation VR exclusive L.A. Noire: The VR Case Files will also work on PS5. Simply having access to a disc-based copy or digital version of those games on either console will allow next-gen console owners to play them in improved graphical states. Faster loading times for those games will also make playing them a far better experience on Xbox Series X|S and PS5.
For those worrying about their progress carrying over, your fears can thankfully subside. The save files for those aforementioned games can be transferred via a LAN cable, wireless connection, or USB storage device. Player progress tied to Grand Theft Auto Online and Red Dead Online will also carry over as long as the same Xbox Live or PlayStation Network account is activated on the new consoles. 
Advertisement
PlayStation Plus members have a lot to be happy about when it comes to GTA Online. Rockstar noted that PS Plus members will continue to get GTA$1,000,000 deposited into their in-game Maze Bank account during every month they log-in. This bonus perk will continue right up until the launch of the standalone version of GTA Online for PS5 in 2021.
Rockstar also went on to mention a collection of backward compatible Xbox One games from the original Xbox and Xbox 360 library that will work on Xbox Series X|S. Those titles include Bully: Scholarship Edition, Grand Theft Auto IV, Grand Theft Auto: Episodes from Liberty City, Grand Theft Auto: San Andreas, Midnight Club: Los Angeles, Red Dead Redemption, and Rockstar Games Presents Table Tennis.
PS5 owners can look forward to playing a nice array of digital PS2 games that are currently available on PS4. The games making their way over via backward compatibility include Bully, Grand Theft Auto III, Grand Theft Auto: Vice City, Grand Theft Auto: San Andreas, Manhunt, Max Payne, Red Dead Revolver, and The Warriors.
Hopefully the next major announcement from Rockstar has something to do with Grand Theft Auto 6, which is taking forever.