Here's What Critics Are Saying About Bugsnax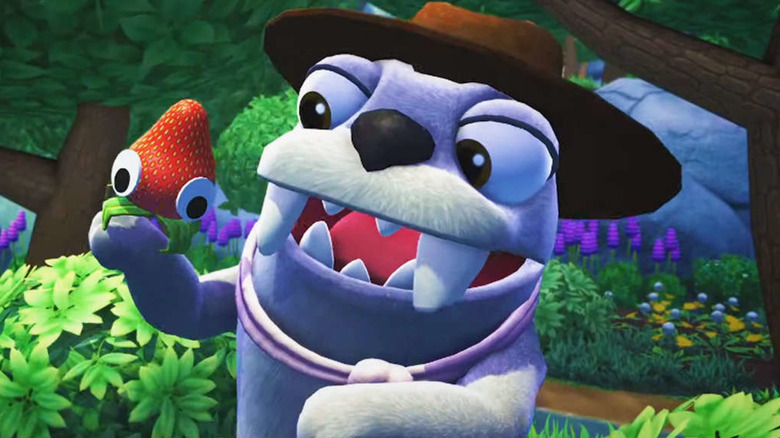 Young Horses
Fans of cute critters and snack food rejoice — Bugsnax is finally almost here. The quirky PS5 launch title introduces gamers to Snaktooth Island and the titular Bugsnax, weird little animal/food hybrids who must be lured, captured, and yes, consumed. After eating one of these creatures, a person's limbs are transformed into the aforementioned snack. With such a bizarre premise, it's no wonder that gamers have been curious to see what the critics make of Bugsnax.
Advertisement
The good news is that most of the early reviews have been extremely positive. Most critics seem to enjoy the varied designs of the Bugsnax — there are over 100 of them in the game, and they all leave an impression on the player. Also, many of the Bugsnax must be caught with specific tools or traps, leading to some interesting puzzles for the player. 
According to GameSpew's review, exploration of Snaktooth is rewarded, with different Bugsnax hiding in various areas on the island. Although the game is rather short (8 to 10 hours, according to Push Square), there is still plenty to do and see. GameSpew concluded, "long after finishing the main storyline, you'll want to return to Snaktooth Island to round up more snax and hang out with your new furry friends."
Advertisement
In a review of the PC version, Eurogamer's Christian Donlan called Bugsnax "one of the more memorable games of the year." Donlan praised the game's puzzle-solving and plot, which apparently features more twists and turns than expected. The Sixth Axis likewise commended Bugsnax's puzzles and bug-catching mechanics, but felt that some of the tougher encounters could be a little "fiddly," requiring more luck than skill.
Critics have commended the game's relatable characters and sense of humor. IGN's Simon Cardy wrote, "[Bugsnax is] absurdist to the extreme at times, but what do you expect from a game that's home to a tornado-conjuring flapjack with bacon for legs?" GamesRadar+ also applauded the game's twisted sense of humor, but lamented its load times and lack of fast-travel.
A much more average review came from Metro's GameCentral. This review found the game to be very clever, but "rarely as much fun as it should be." Metro also took the game to task for its graphics and animation style, which were found to be "low-tech."
Overall, however, critics are enjoying the unique entertainment offered by Bugsnax. The game will be released on PS5, Mac, and PC on Nov. 12, 2020. For the duration of November, Bugsnax will also be free for PS Plus members who own a PS5.
Advertisement