What A Paid Monthly Subscription Could Mean For Fortnite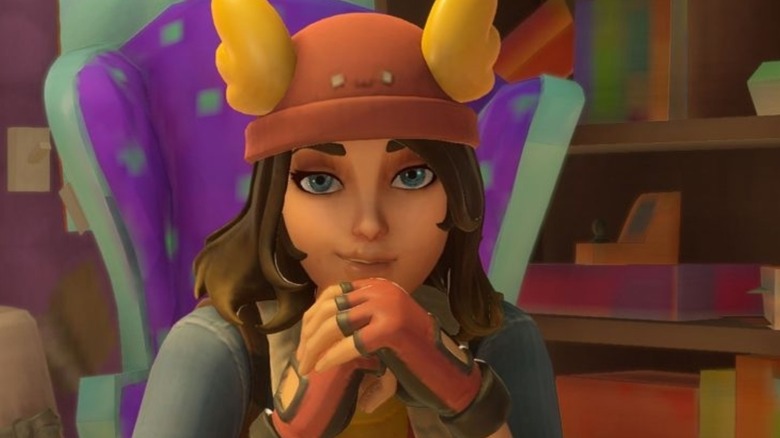 Epic Games
One of the things gamers love about Fortnite is that it's 100% free. However, that doesn't mean they wouldn't happily pay for it, especially if it comes with some sweet perks, like V-bucks and season Battle Passes.
This isn't the new reality yet, but a Fortnite subscription option may be a possibility in the near future. Thanks to an image posted by FireMonkey on Twitter, Fortnite fans caught a glimpse of what a monthly subscription plan could entail. As explained by FireMonkey, Epic Games sent out a survey asking its fans what they thought about the idea, which would include a full season Battle Pass, a monthly Crew Pack (including an outfit pack, Back Bling, and pickaxe), and 1000 V-bucks.
🚨Fortnite "Monthly Crew Pack" Leak🚨

In a recent survey Epic Games has sent out, this image can be seen:

With the image users are being quizzed on how they would rate the monthly subscription service.

Survey was brought to my attention VIA: @MarDlt_ pic.twitter.com/daYouFMcVy

— FireMonkey • Fortnite Intel (@iFireMonkey) November 7, 2020
The survey also asked what amount players would be willing to pay for the subscription, with some fans reportedly given options between $15.99 and $18.99 per month, and others saying they were presented with a starting price of $5. Responses to the $16 – $18 price range were mixed, with some protesting that the cost was far too high. However, others maintained that $16 a month would be a steal, considering the usual prices of Battle Passes and V-bucks.
The original survey image posted on Twitter included a "Crew Ninja" monthly pack, but in a follow-up tweet, FireMonkey also posted an image of the survey which featured Ghost Rider instead. "It actually looks like the image was fully changed to Ghost Rider after this leak," FireMonkey pointed out. The reason for the change is likely the recent launch of Fortnite's Ghost Rider skin, which fans had a chance to win by competing in the "Ghost Rider Cup" on Nov. 4.
Fortnite previously considered an Annual Pass that ultimately was scrapped. The prototype was leaked in the v11.30 update through datamining, but Epic quickly responded with the statement that "While the Annual 2020 Pass was considered, we have no plans to release it." Had the Annual Pass been released, fans would have had access to exclusive cosmetics and 25% unlocked Battle Passes.
While an Annual Pass is no longer in the cards, the idea of a monthly Fortnite subscription seems to be a big hit with players of the battle royale game, which now has over 350 million players and counting. Fortnite's mobile revenue reached an all-time high this year, so Epic Games will no doubt have yet another cash cow on their hands when (and if) the subscription officially launches.