Destiny 2 May Introduce More Darkness Subclasses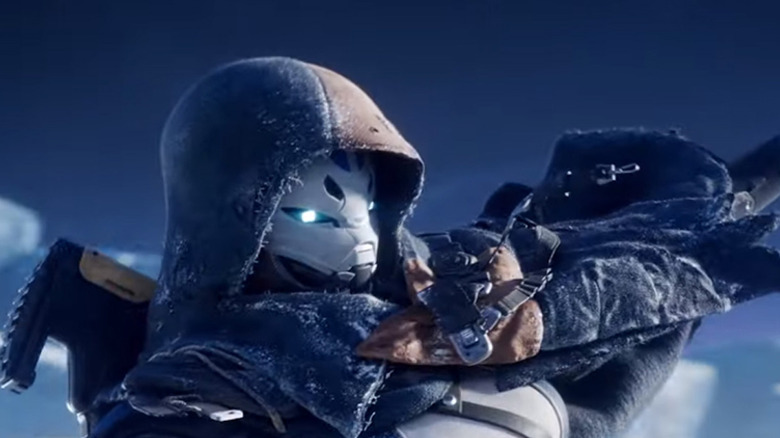 Bungie
Destiny 2: Beyond Light has finally gone live and added a slew of fresh content to the popular FPS. Beyond the game's three main elemental powers tied to the Light (Arc, Solar, and Void), Beyond Light adds an entirely new power represented by the Darkness. That fourth elemental power is called Stasis, which gives Guardians the ability to deal ice-based damage via their new moveset. Another notable change that's come with the Beyond Light expansion are subclass abilities attached to the game's Titan, Hunter, and Warlock main classes. Titans can utilize frozen gauntlets, Hunters can fling dual ice kamas, and Warlocks can shoot out projectiles with their icy staff.
Thanks to a statement made by game director Luke Smith, Stasis may not be the only Darkness subclass players can look forward to. On a recent episode of Twitch's The Weekly, Smith appeared onscreen and noted that Stasis will be the "first of the Darkness subclasses," before asserting, "There will always be new things that we're going to add to expansion sets."
Polygon's Ryan Gilliam brought up another clue that points to Smith's words ringing true. "The subclass menu now has two modes to it: Light Subclasses and Darkness Subclasses," Gilliam noted. "If players select the Light Subclass option, their character gets a white backdrop and they can freely swap between Arc, Solar, and Void, as they've done for years. But choosing Darkness Subclasses moves the Light Subclass selection into a solitary node and shifts the background color to black." 
Things haven't exactly been going to smoothly in regard to Beyond Light's launch thanks to server and connection issues. Plus, returning players have lamented Beyond Light's lack of fresh loot, Bungie's reduction of Bright Dust rewards, and Bright Dust being relocated to Destiny's 2 Season Pass. Plus the system adjustments brought on by the game's 12th season have drawn concern from its massive player base.
Players may not know what Darkness subclasses Destiny 2 has in store, but hopefully they'll get a better look at them once The Witch Queen expansion hits in 2021. Hopefully, all the launch issues will get ironed out now that Destiny 2 is playable on the PS5 and Xbox Series X|S consoles. The game's next-gen upgrades are certainly worth making the transition for.