Assassin's Creed: Valhalla Includes A Special Treat For Anime Fans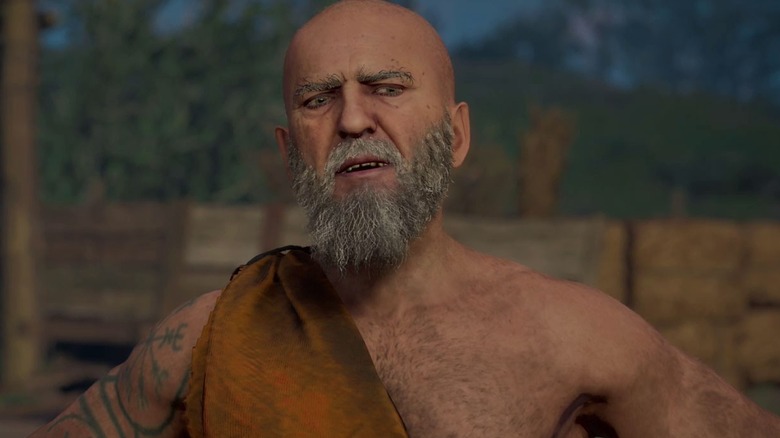 Ubisoft
If you're an anime fan, you're going to love a sly reference that Ubisoft Montreal has included in its new game, Assassin's Creed: Valhalla. In Grantebridgescire, south of the Stour and north of Walden, you meet a warrior named The Walloper — and he's a dead ringer for Saitama, otherwise known as the title character of One-Punch Man.
You first meet The Walloper's grandchildren, who boast of his great prowess in hand-to-hand-combat. In dialogue with him, you can decide to have him show you his walloping move. He is reluctant, but agrees. Of course, in this case, the character is rendered in the more realistic art style of the Assassin's Creed series rather than the stylized anime and manga version fans may be used to from print and TV. However, he's still bald (although this version has a gray beard) and he still lays out his enemies in one punch. 
When you fight this man, who has been cursed with superhuman strength, you're going to have to try to prevent him from landing a hit on you. Otherwise, he'll take you down easily, as his name implies. Still, you'll recover quickly — unlike many of the original One-Punch Man's enemies, who may die or explode from the force of impact. And Assassin's Creed's version of One-Punch Man will bemoan his fate just like Saitama might, saying, "A banal victory for me and my wallop. Still unbeaten. Why god? Come back if you want another taste of my endless victory."
One-Punch Man started out life as a webcomic from Yūsuke Murata, which was turned into a popular manga and then an anime. The anime show's first season premiered in 2015 and debuted on the Cartoon Network's Adult Swim Toonami block in 2016 dubbed in English. A second season, made available through Hulu in Japanese and then Toonami, followed in 2019. The humble, slightly-bored hero is actually no stranger to video games, as he starred in two of his own: Oasis Games put out the mobile RPG game One-Punch Man: Road to Hero in 2019, and One-Punch Man: A Hero Nobody Knows was released by Bandai Namco in February 2020.
This is just one of the interesting encounters gamers have discovered in the huge environment that makes up Assassin's Creed: Valhalla. The game has been getting good reviews from critics and launched with more success than expected. Its brand new features and gorgeous, exploration-friendly setting appear to have won people over — and Easter eggs like the presence of a One-Punch Man homage are just the icing on the next-generation cake.