The Real Reason You Shouldn't Put Your PS5 In Rest Mode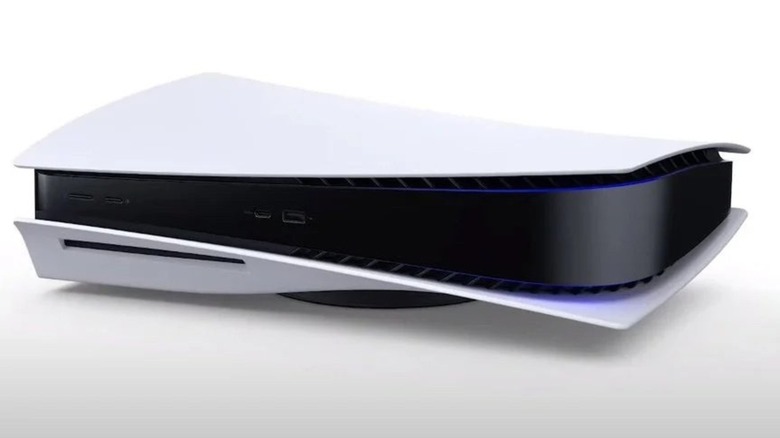 Sony
Putting the PlayStation 5 into rest mode has proven to be an unexpectedly dangerous task for gamers. What should be the brand new Sony console's convenient method of shutting down without completely turning off is just causing more problems on top of the other reported PS5 issues, such as overheating.
One of the latest rest mode debacles comes from Bella Blondeau at TheGamer, who reported that their PS5 went into a loop of black screens and wouldn't turn back on when it was put into rest mode. They did manage to slightly resolve the issue by putting the system into a power-cycle; the PS5 was unplugged and left alone for two minutes. Then, they held the Power button to launch the console in Safe Mode. As another precaution, they bumped the native resolution down to 1080p before powering the PS5 on normally, but HDR still did not function properly.
Rest mode was initially a feature on the PS4. Similar to rest mode on a PC, the console enters a low-power mode so that it can be loaded up faster when players return to the console. Typically, games can still be running in the background while the console is in rest mode, but that appears to be dangerous on the PS5.
The exact reason for the PS5's rest mode bugs is not yet known. For now, it's best to not use the feature at all, as both TheGamer and VG24/7 have suggested. PS5 owners can turn rest mode off by going into the Power Saving option on the settings menu. Under "Set Time Until PS5 Enters Rest Mode," simply switch the setting to "Don't Put In Rest Mode." Of course, this does mean that gamers will have to fully shut down the console and power it back on every time it's used, which can take some extra time.
Reports of rest mode issues began a few days before the PS5 even reached release day. Giant Bomb's Jeff Gertsmann wrote on Twitter that his PS5 flashed a "repair your external drive" error specifically when he put the PS5 into rest mode while playing Spider-Man: Remastered. After going through the drive sequence, he reached the dreaded black screen and began the process over again. Insomniac Games stated that it is looking into the Spider-Man: Remastered issue, but Sony has not yet acknowledged the overall rest mode problems.
Things are not looking good for the PS5 right now, as players have reported a laundry list of other issues, including the console overheating and storage rebuild issues that have the potential to completely kill the PS5. At least Sony has already addressed the overheating problem and offered up a few suggestions on how to keep the console and safe, according to ScreenRant. With the holidays coming up, gamers can only hope that Sony is working diligently to resolve the PS5's bugs, otherwise the entertainment giant may see a drop in sales.