Into The Spider-Verse's Iconic Scene Recreated In Spider-Man: Miles Morales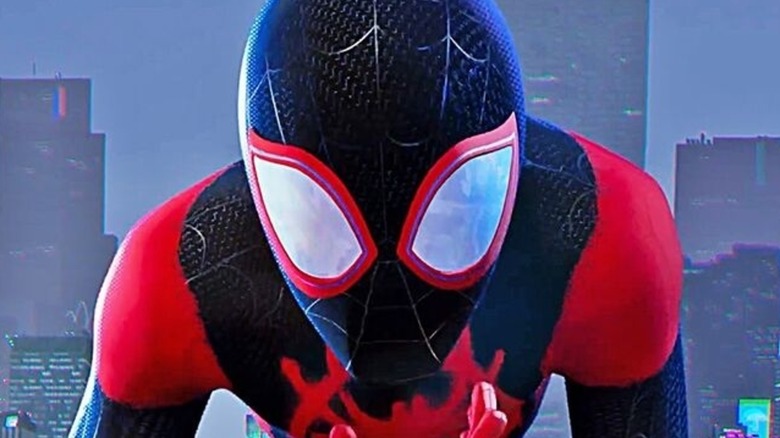 Sony Pictures Animation
Through the magic of editing, one gamer has made a recreation of the epic "Leap of Faith" scene from the film Spider-Man: Into the Spider-Verse in Spider-Man: Miles Morales for PS5. The 44-second video was posted on Twitter by user @Much118x, and it has gained over 75 thousand likes, 18 thousand retweets, and over 600 comments since it was first posted on Nov. 14.
The video attempts to match the film sequence as closely as possible, including the use of the track "What's Up Danger" from the movie, as well as an inverted shot of Spider-Man with the New York City landscape above him. Miles is even wearing the fan-favorite Spider-Verse costume, which gives him a unique look that is similar to the animation style of Into the Spider-Verse. As Miles dives from the top of a skyscraper and drifts downward, Much118x also incorporates the comic book panel effect seen in the film. The video then shows Miles swinging gracefully through the streets of New York (much more gracefully than Miles in the film), landing on a semi before jumping into action once more.
"I attempted to line up the shots as best I can, hope ya like it," Much118x humbly stated. The video received a plethora of praise and awe from commenters, all blown away by the faithfulness of the video to the film's original sequence. 
This video even caught the attention of James Ham, senior animator at Insomniac Games, the studio which developed Spider-Man: Miles Morales. "Yoooo!!!! This is amazing!!!" Ham wrote in the comments. "Great job!!! I was waiting to see when the first recreation like this would be, great work and editing!!!" YouTuber Jacksepticeye, who is well known for his gameplay videos, also expressed his admiration: "This is absolutely wild!"
The "Leap of Faith" scene from Spider-Man: Into the Spider-Verse has become recognized as one of the most thrilling movie moments in recent years. The award-winning film no doubt helped to inspire the creation of the new critically-acclaimed game. The suit is available in Spider-Man: Miles Morales after leveling up and collecting the required currency, and it unlocks the "Vibe the Verse" and "Bam! Pow! Wham!" mods. These mods give Miles the Into the Spider-Verse look not only with the iconic spray-painted suit, but also through its comic-style text during combat, as words like "Bonk!" and "Kapow!" pop up in colorful displays.
Those who wish to try out the Into the Spider-Verse suit for themselves can purchase Spider-Man: Miles Morales now for PS4 and PS5.