Did Nintendo Just Break Its Silence On Biden's Animal Crossing Island?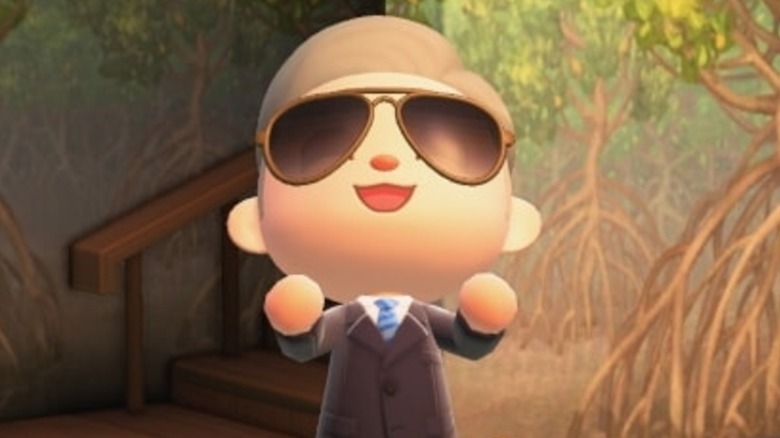 Nintendo
Nintendo recently released a set of guidelines regarding how businesses and organizations may use Animal Crossing: New Horizons in their operations, including a rule that asks businesses to refrain from using the game for political purposes. The guidelines came only weeks after United States President-Elect Joe Biden's campaign unveiled its very own Animal Crossing island.
Advertisement
According to IGN, the use of politics in the life simulation game was listed under Nintendo's prohibited activities. "Please refrain from using the Game inappropriately or creating any content within the Game that would be considered vulgar, discriminatory, or offensive. Please also refrain from bringing politics into the Game," the guidelines stated. Nintendo did not elaborate on what the politics guideline means exactly, or why the guideline was implemented, but as IGN pointed out, it could be a possible response to Biden Island.
In any case, Nintendo does plan to crack down on those who ignore the new Animal Crossing guidelines. The gaming giant stated that it will prohibit "your future business usage of the Game" if it finds that the activity in question is damaging the community. While these rules are in place for businesses, there are no policies in place for individual players bringing politics into Animal Crossing. Nintendo did also include a set of guidelines for things businesses can do in Animal Crossing, such as providing custom designs to fellow players. However, these designs can not be used for financial gain. Additionally, businesses can send player invites and share screenshots and gameplay clips.
Advertisement
Biden Island debuted on Oct. 16, just under three weeks before the 2020 presidential election, via KindaFunnyGames' Twitch Channel. The island featured characters representing Biden and vice president-elect Kamala Harris, as well as a merchandise shop, campaign yard signs, offices for the candidates, and even a re-creation of the White House. Players could visit Biden Island via a Dream Address, which allows Animal Crossing islanders to check out other islands without both parties needing to be online.
In addition to the creation of Biden Island, the Biden campaign created a Biden Victory Fund Animal Crossing digital store, complete with yard signs and clothing in support of Biden and Harris. Plus, Biden also made an appearance in a custom Fortnite map earlier this month. The marketing effort seemed to be a way to draw young voters to the Biden-Harris campaign, since that group had previously been skeptical of supporting Biden, according to The New York Times. 
Biden and Harris were only the latest public figures to join Animal Crossing. Celebrities like Elijah Wood and T-Pain have previously shared their interest in the game. On top of that, brands and organizations like NFL's Detroit Lions have created designs and built islands for players to explore. With these new Nintendo guidelines in place, these businesses will need to be careful with their Animal Crossing approaches.
Advertisement