Sony Almost Made A $1000 PS5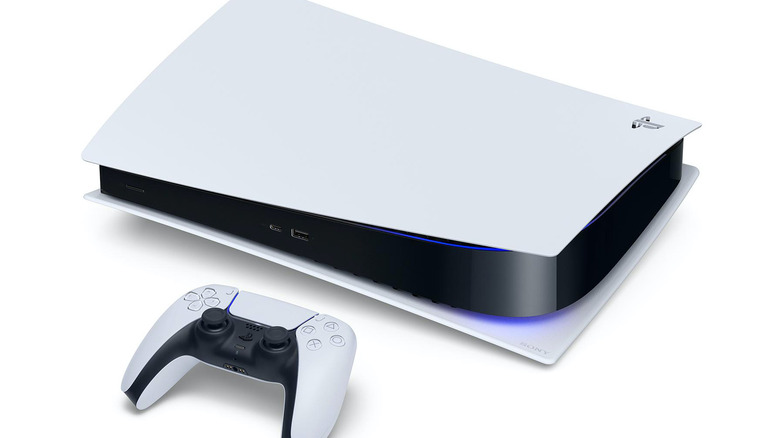 Long before Sony officially revealed the PlayStation 5, fan speculation ran amok, with PS5 rumors spreading like wildfire. A big question that was on everyone's mind was the cost. While a hypothetical $1000 price tag seems a tad preposterous in hindsight, it turns out that theory wasn't too far off the mark.
In a recent conversation with GQ, PlayStation head Jim Ryan revealed that the PS5 could have been far more expensive than its current retail price. During the interview, Ryan was asked if he ever had to play "bad cop," to which he responded "technology people will say, 'Here's a really cool chip that's gonna make a great gaming console.' And I might have to say, 'Yeah, but that really great gaming console is going to sell for [$1,000]. So sorry, we can't do that.'"
Indeed, he may have had to play bad cop in that situation, but it seems as though his decision saved gamers a ton of money. Well, at least in theory.
While the retail price of the PlayStation 5 was a little more down to earth than the beefier iteration engineers wanted to build, many gamers are still facing an outrageous price tag. The PS5 pre-order debacle left a lot of fans without much hope for securing a unit at launch. Furthermore, word got out early on that Sony would not be able to provide as much stock as there was demand. Unfortunately, this led to a bit of a scalper problem that left consumers facing price tags almost double that of the price Ryan tried to mitigate.
It's unfortunate that Ryan's insistence on keeping the PS5 affordable didn't really work out in the end, at least at launch. Striking the perfect balance between affordability and performance cannot be an easy task, but Ryan has put a lot of his focus on achieving that goal. While his concern for consumers' wallets is clear, he is still enthusiastic about the technology and continuing to innovate. In his GQ interview, Ryan spoke on how the company looked to explore new avenues of the gaming experience through its DualSense controller, 3D audio, and even the speedy SSD. The PS5 boss expressed great joy when he heard developers say, "We can do big things with this."
From his discussion with GQ, it's clear Ryan is hoping the PS5 will last up to seven years. This gives gamers plenty of time for new stock to roll in and retail prices to resume. When that happens, Ryan's vision of a machine that strikes a balance between cost and performance can return.