The PS5 Is Sold Out. Here's How You Can Still Get The Console Before Launch Day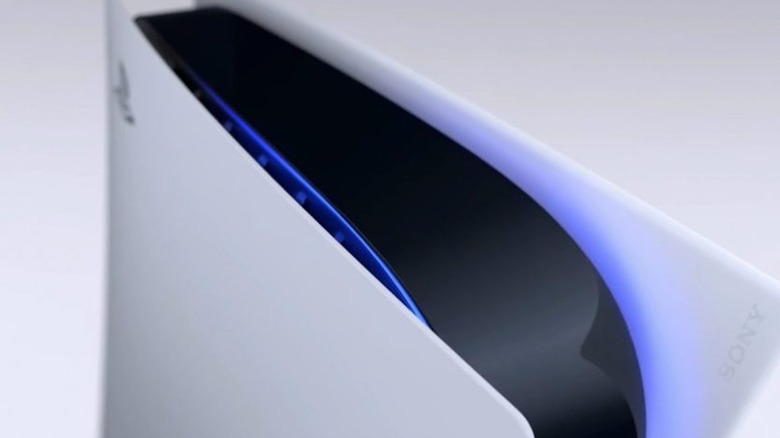 We may receive a commission on purchases made from links.
The release date and price of the PlayStation 5 has finally been revealed, and fans are chomping at the bit to bring one home for themselves. Unfortunately, gamers have run into quite a few issues with securing a preorder for the console. Despite Sony's initial promise that preorders would be announced with plenty of a heads up for fans, the system went up for sale moments after the price reveal. As a result, the PlayStation 5 and PS5 Digital Edition were apparently sold out everywhere within minutes. Now you may be wondering how you're going to get your hands on a PlayStation 5. 
Advertisement
While things look pretty grim for anyone who was hoping to get one on the console's release day, there are still a few options available. As with the long wait for the actual price point announcement, the key to getting one of these consoles is going to be patience.  
For starters, it's still worth checking back in with certain retailers from time to time. Although the initial run of preorders sold out, it appears as though some stores may be receiving further allocations of preorder copies. Keeping an eye on larger online retailers may be your best bet to get one of these consoles on launch day. GameStop, Amazon, and Target currently show preorders as being unavailable. However, that doesn't mean that they won't possibly get more units in the near future. It's hard to predict, but leaving a tab open for each of them might not be a bad idea while you wait. For instance, Best Buy has been listing the consoles as "coming soon," which could refer to the preorders being made available once more. Then again, Best Buy could be sold out of its allocated preorder units, which would mean the "coming soon" could simply be referencing the fact that the console will be out in a couple of months.
Advertisement
Walmart's website has already seen a restock of preorders, although those notably sold out very quickly. Dan Ackerman of CNET reported that he got as far as the checkout screen when he was told that Walmart had already sold out of the second round of preorders, automatically emptying his basket. So if you see it pop up again on Walmart's website, you may want to pull the trigger on that purchase as soon as possible.

This is honestly a good rule of thumb across the board for preorders. If you've already decided to purchase one, make the purchase as soon as you see that it's available. The odds of these consoles being available on any website for longer than a few minutes are slim to none.
Luckily for fans, there are more than a few social media accounts that are tracking the availability of PlayStation 5 consoles across multiple websites. In particular, @Wario64 on Twitter has been doing a valiant effort of updating fans on where and when they can snag a preorder when one pops up.
Of course, there is always the old fashioned way of getting a highly sought-after console. If you don't mind roughing it in November, you could always camp out at a retailer that will be carrying it on launch day. Again, however, this isn't exactly a fool-proof plan. With the major cutbacks in the PlayStation 5 production line, retail stores are going to be allocated very limited supplies of the PlayStation 5 during the console's first fiscal year. Bloomberg has reported that the new console's production run may be reduced by as many as 4 million copies. In other words, being at a store in person may still not be quite enough to ensure that you snag a PS5 for yourself.
Advertisement
Lastly, there's the route that most people don't want to go, but which may prove to be one of the few ways to secure a PS5 on launch day: eBay. It has been reported that around a thousand PS5 preorder tickets have been sold by resellers on eBay. While it's not ideal to get any new release console this way, it seems that it has been working out for many desperate fans. 
The PlayStation 5 has already proven to be in greater demand than perhaps Sony had anticipated. This even led to Xbox making some jokes on Twitter at Sony's expense, telling its customers that the start of preorders for the Series S and Series X would not be a surprise. It may prove difficult to get a PlayStation 5 on launch day, but following these tips and having a bit of patience may end up working out in your favor.