One Of The Hardest Games Almost Had An Easy Mode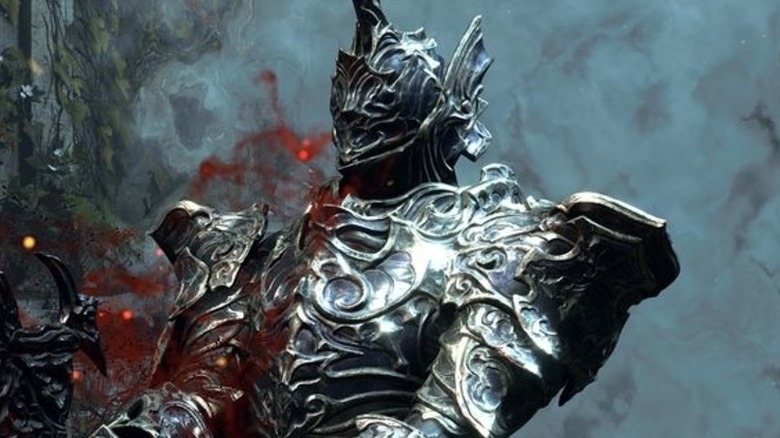 Sony Interactive Entertainment
FromSoftware's Souls games are some of the most difficult games of all-time, as are their spiritual successors, Bloodborne and Sekiro: Shadows Die Twice. In a move that could have been helpful to newcomers, the recent PS5 remake of Demon's Souls nearly added an easy mode, according to an email sent to The Washington Post from Bluepoint creative director Gavin Moore.
Advertisement
Ultimately, the team wanted to maintain Demon's Souls' core mechanics. Calling Bluepoint "merely custodians" in the remake's development, the Moore says that the team decided against adding "something that would fundamentally alter [the game's] balance."
Moore discussed the topic of difficulty in a Game Informer interview in late October, labeling the challenging title as "fair," with no easy difficulty options. He elaborated that "there shouldn't be," echoing the sentiment that preserving the make-up of Demon's Souls is more important than necessarily appealing to a more casual crowd.
The Washington Post points out that, while there is no easy difficulty, Bluepoint and Sony provide PlayStation Plus subscribers with clips that help guide players new to Demon's Souls or those who need a refresher before jumping in. Further, there are numerous accessibility options that tailor gameplay to other player preferences, including expanded audio options and "the ability to edit the UI palette" for those who struggle with degrees of color blindness.
Advertisement
Bluepoint intends to keep what makes Demon's Souls a Souls game, including overcoming unforgiving bosses and solving head-scratching puzzles. However, to maintain or expand the Souls series audience, Moore concludes that "everyone comes into the experience with a different ability level, and we'd rather no one step away because they were too discouraged."
The wide array of accessibility options could be useful to existing players and newcomers who have shown hesitation due to the challenging nature of the Souls series. Further, Bluepoint's accessibility options now add Demon's Souls to the group of mainstream titles offering similar options. These include such games as Gears 5, Ghost of Tsushima, Halo: The Master Chief Collection, and many more.
Along with new accessibility features, Demon's Souls differs from the PlayStation 3 original in a number of ways. As a remake, the game inherently sports next-gen visuals. Moreover, the glitches that plagued the original, such as attacking bosses through fog doors, have been eliminated. Further, some gameplay mechanics have been tweaked, including limiting the amount of healing grass players can carry instead of the limitless supply players could carry in the original.
Advertisement