Mortal Kombat 11 Players Are In For A Healthy Dose Of Nostalgia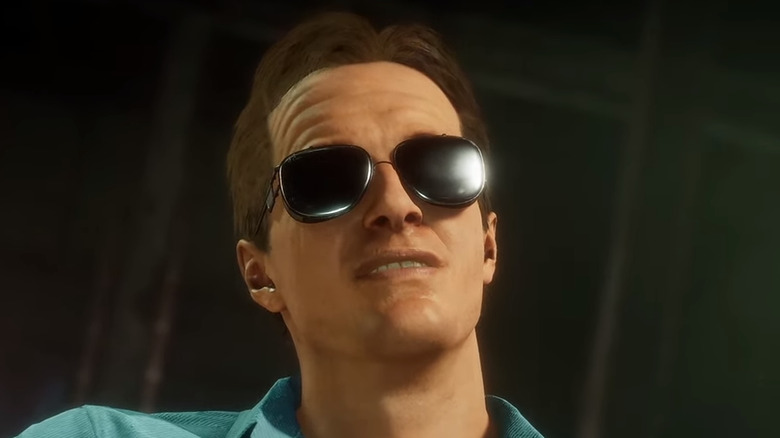 Warner Bros. Interactive Entertainment
Mortal Kombat 11 players have the opportunity to travel back in time with the new Klassic MK Movie Skinpack, which is available today as an add-on purchase. The pack features movie versions of iconic Mortal Kombat characters like Sonya Blade, Raiden, and Johnny Cage, but it goes further by featuring new voice content for the skins from the original film actors.
After Mortal Kombat co-creator Ed Boon teased that new throwback skins might be on the way, NetherRealm Studios confirmed the news with a 55-second trailer for the pack. This announcement isn't necessarily a surprise. After a Reddit leak speculated that movie skins might be incoming, fans were thrilled to hear Christopher Lambert's voice in the leaked footage.
The new trailer features voice acting from Christopher Lambert as Raiden, Bridgette Wilson as Sonya Blade, and Linden Ashby as Johnny Cage. Additionally, the new skins look like their movie counterparts, allowing players to take a nostalgic journey back to the 1995 film. Sonya Blade wears her iconic black tank top and shorts combo, complete with boots and a high ponytail, while Johnny Cage opts for a sharp button up shirt and dark sunglasses. Meanwhile, Raiden returns to a classic outfit that includes long white hair, a flowing garment, and the wide brimmed hat that makes him so familiar to gamers.
As new characters are regularly added, Mortal Kombat 11 has a chance to stick around for a while, even in the midst of next-gen console releases. NetherRealm has worked to build Mortal Kombat's esports presence, making it a staple in fighting game competitions and securing its place in the regular rotation of games for many players. The new skins are a reward for the many fans who have stuck with the franchise through confusing plot twists, a changing games market, and more than a few frustrating releases. 
By including Johnny Cage, Raiden, and Sonya Blade in their 1995 movie forms, NetherRealm acknowledged that fans crave new additions in order to keep games fresh. Fighting games need momentum to keep going, and Mortal Kombat 11 is poised to maintain its popularity with its Kombat Packs, new fighter skins, and participation in the esports world. If you'd like to party like it's 1995, pick up the Klassic MK Movie Skinpack today.