The PlayStation 5 Launch Made History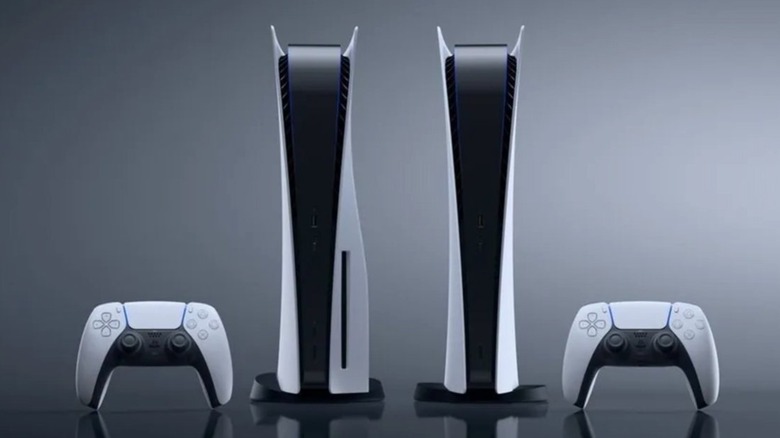 Sony
The PlayStation 5 was finally released this month, and it sold out in the blink of an eye. Since then, gamers have had problems with scalpers attempting to fleece the people who weren't fortunate enough to land a preorder or snag a console at launch. In fact, Sony Interactive Entertainment CEO Jim Ryan recently announced that the company's entire stock of PlayStation 5 consoles were all gone. While that shortage of consoles has caused a headache for fans, the overall demand for Sony's latest next-gen console has a bit of a silver lining. 
Advertisement
In response to the PS5's "unprecedented" level of success, PlayStation took to its official Twitter account to not only thank its customers, but also to reassure people that the consoles would be restocked in due time. In other words, it looks like disappointed PS5 fans won't have to remain that way for too long.
"We want to thank gamers everywhere for making the PS5 launch our biggest console launch ever," read the tweet. "Demand for PS5 is unprecedented, so we wanted to confirm that more PS5 inventory will be coming to retailers before the end of the year – please stay in touch with your local retailers."
While plenty of PlayStation fans seemed excited about Sony's tweet, there were many others who are still feeling the sting of the system's launch. A few frustrated gamers complained about the bots that scalpers have been using to snag consoles online before human customers can get one. Others were simply curious to see the official sales numbers for the PS5.
Advertisement
This announcement from Sony echoes a similar social media post from Xbox head honcho Phil Spencer. Shortly after the release of the Xbox Series X and Series S, Spencer took to Twitter to celebrate the largest console launch in Xbox history. Exact sales numbers have not been released for the new Xbox consoles. However, it has been noted that the launch managed to be successful in spite of the fact that it lagged in production behind the PS5.
It looks as though that production gap may continue. Microsoft Chief Technology Officer Tim Stewart recently explained that it may be a few months before Microsoft is able to get a significant number of new Series X|S units on store shelves. With the PS5 allegedly becoming available again before the end of the year, it seems that the PS5 may not have any problem maintaining its current level of success. 
Now if only there weren't so many people being delivered random items, instead of the PS5.