New Features In Fortnite: Chapter 2 - Season 5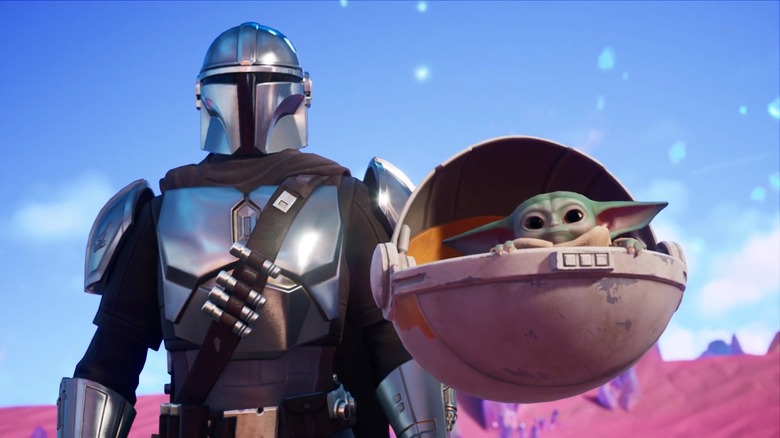 Epic Games
Epic Games just finished its epic Fortnite event that featured Galactus and the game's latest MacGuffin, the Zero Point. The event let gamers drive an army of battle buses up Galactus' arm (foreshadowed by a glitch) in a set piece that was one half Star Wars trench run, one half Independence Day kamikaze ending. The explosive action was a little too much for Twitch, and Epic has yet to put on the breaks since the studio is already transitioning into the next season of Fortnite Chapter 2, complete with new features.
Advertisement
Fortnite: Chapter 2 – Season 5 continues to revolve around the Zero Point, the ongoing mystery of the time-looping island that players ransack every match, and Agent Jonesy. Now, Agent Jonesy is taking an active role to ensure nobody "escapes the loop," and he's recruiting the best bounty hunters from across the multiverse to do so. This plot thread ties the new season and its features together.
Fortnite's Season 5 features a revamped island and a new battle pass. Players will earn character skins that represent Agent Jonesy's crew, including Menace the gladiator, the sentient stack of bandito pancakes known as Mancake, and Din Djarin, a.k.a. Mando from the hit show The Mandalorian.
Of course, what is a bounty hunter without a bounty to collect? Chapter 2 – Season 5 also introduces bounties, NPC provided quests that reward players with gold bars. Earn enough bars and you can ask NPCs for scouting intel or even a helping hand. But if you would rather earn their services through a five-fingered discount, that is always an option — assuming you can defeat them in a duel. You can also earn bars by discovering hidden caches, eliminating other players, and completing non-bounty quests.
Advertisement
If you would prefer to spend your bars on rewards that go boom, the new season also provides plenty of those. You can purchase weapons such as the Dragon's Breath Shotgun and Mando's Amban Sniper Rifle. Although, according to Kotaku, bars are restricted to the match you're currently in, so if you don't spend them before you win (or worse, die), you will lose all your accrued bars.
This is only a sampling of what Epic Games has in store for the new season. Players can expect more quests, hunters, and weapons as time goes on, so don't treat this as an exhaustive list. Will Epic Games create more characters to pad out Fortnite's bounty hunter roster, or will it borrow more famous faces from across pop culture? Only the studio knows for sure.