Gaming Is About To Get A Lot More Sci-Fi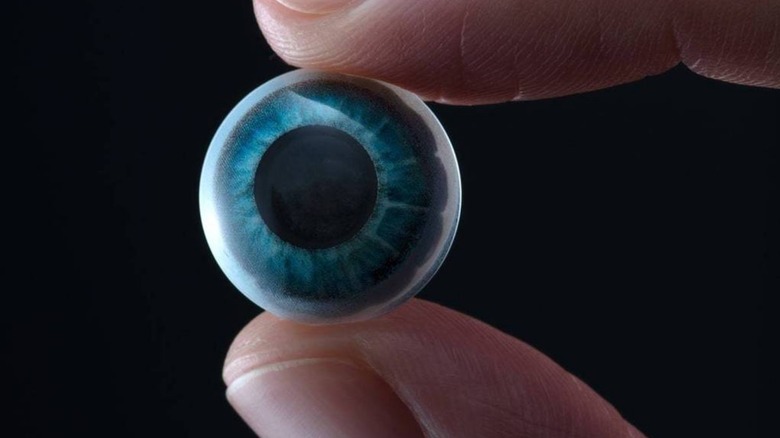 Mojo Vision
Have you ever wanted to break the boundary between video games and reality? Ever wanted to experience the latest Pokémon GO content without constantly pulling out your phone? Or, do you want to view the world through a video game-like heads-up display that turns daily tasks and errands into RPG quest tasks? That might be possible in the near future.
The company Mojo Vision is currently developing prototype augmented reality contact lenses dubbed "Mojo Lens." These lenses use what Mojo Vision calls "Invisible Computing," which tries to replace bulky AR headsets and create experiences that are not bogged down by cluttered UIs. More importantly, Mojo Vision is building these products around a smart learning system that comprehends what you're doing and doesn't try to distract or disrupt you.
While Mojo Vision's, ahem, vision sounds like something straight out of a video game, it is far more real than the images the company plans to display on the contact lenses. Recently, Mojo Vision announced that it teamed up with Menicon, Japan's biggest contact lens manufacturer. Not only will the collaboration marry Menicon's legacy of contact lens R&D and manufacturing with Mojo Vision's microelectronics, but the companies will also start a battery of feasibility tests that will tackle everything from lens materials to proper lens cleaning and fitting.
Depending on the studies, these tests could signal the start of a long-lasting partnership between the two companies. Mojo Vision's chief technology officer Mike Wiemer told VentureBeat that the firms currently only have a "development agreement," but it could easily blossom into a "commercial agreement." Therefore, the organizations might work together to transform the Mojo Lenses into (relatively) affordable devices. That is, of course, assuming the feasibility tests go off without a hitch.
Even though it's far too early for developers to start producing any programs for these lenses, Mojo Vision already has several plans for the device, such as providing directions, highlighting objects for the visually impaired, and delivering restaurant reviews. But, since the advent of AR technology delivered games such as Pokémon GO and Minecraft Earth, if Mojo Vision and Menicon's tests prove fruitful, you can probably expect a deluge of mobile titles to augment their experiences with Mojo Lens. Don't be surprised if the first app out the gates is an official Pokédex that lets gamers walk around their Pokémon and see how their sizes stack up to reality.