Some Retailers Won't Have PS5s Until 2021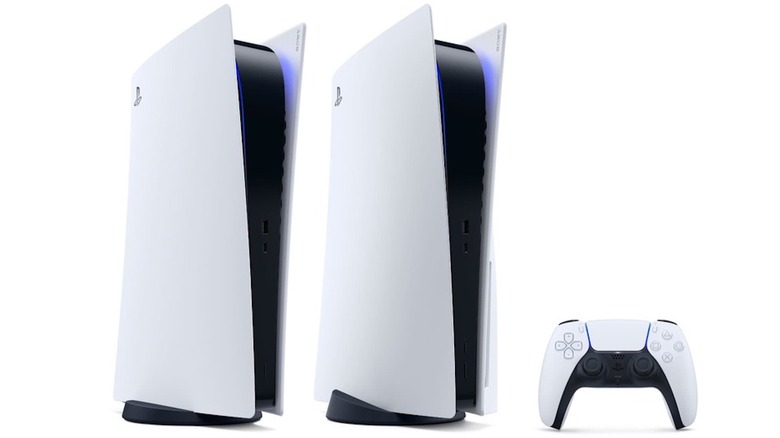 Sony
It is no secret that the release of the PlayStation 5 has been problematic, at best. The console's initial stock was sold out almost immediately, and the ensuing weeks have revealed that a large number of systems were purchased by bots and scalpers, which is looking to be a major problem for the next console generation. While PlayStation fans are waiting for the next round of systems to become available, customers in the UK are getting some majorly disappointing news regarding the availability of Sony's newest console.
Advertisement
As reported by TheGamer, several UK retailers have informed customers that they are completely sold out of PS5 stock, and they don't anticipate receiving any more until sometime in 2021. While some retailers are attempting to get more stock, others seem to believe that it simply won't be possible to do so in the remaining weeks of 2020. Argos, a retailer that infamously released extra PS5 stock at 3am at one point (which resulted in many customers not getting a console), has added a message to the PS5 listing page on its website. 
Rather than displaying the new console and touting any of its new-fangled features, Argos customers are greeted with, "Sorry, PlayStation 5 is currently unavailable. We will not have any further stock for the rest of 2020." Underneath this message is a button that redirects customers to the Argos homepage, fully smashing hopes of any new PS5 stock. 
Advertisement
This is especially disheartening for PlayStation fans when one recalls the company's recent promise to try to get more PS5 units out into the world before the end of the year. It seems as though this was a task easier said than done, and Sony is facing shortages similar to those experienced by Microsoft with the Xbox Series X. It may be impossible to find a PlayStation 5 over the next few months.
As much of a bummer as it is that many of these stores are out of PlayStation 5s, the PS5 shortage is not entirely due to high customer demand. In addition to the aforementioned scalpers, a recent rash of robberies have deprived several UK retailers of their PS5 units, as thieves have engaged in "rollovers" that involve stealing PlayStation 5s and other electronics right out of moving delivery trucks. Adding onto these high-speed thefts are a series of instances where Amazon UK customers have had their PS5 consoles swapped out for other items during delivery. These thefts are still under investigation.
In the meantime, whatever you do, it's still probably a bad idea to try to buy a PS5 on eBay.