This Award-Winning RPG Is Coming To Xbox Game Pass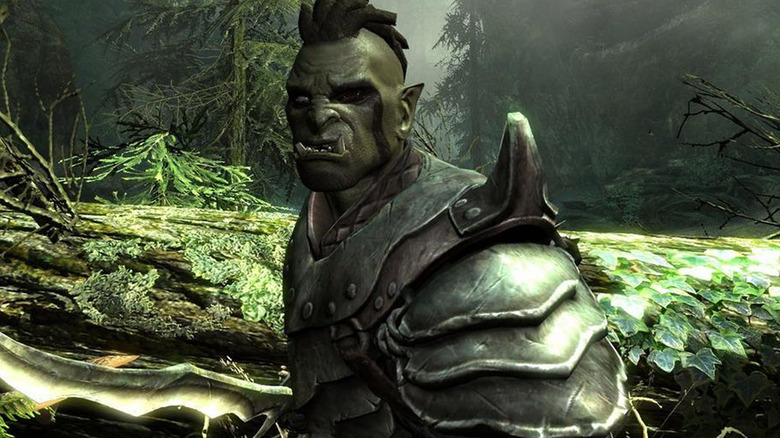 Bethesda Softworks
Microsoft's Xbox Game Pass subscription service for console and PC is the gift that just keeps on giving.
For the final month of the year, a brand new slate of recommendable games will be added to the Xbox Game Pass library. Among those new titles is an open-world action RPG that has actually claimed more than 200 Game of the Year Awards, The Elder Scrolls 5: Skyrim Special Edition. For those of you who have been living under a rock and still haven't given Bethesda's modern classic a chance yet, there's no better time than now. You'll be able to download the game starting on December 15.
This definitive version of Skyrim comes with the base game, all of its additional DLC, and remastered visuals. Hardcore fans will also note the presence of mods that the game's massive community uses to alter it in minor/major ways. To say that Skyrim has been around for a long time is a definite understatement: it originally launched on November 11, 2011, for PC, PS3, and Xbox 360. In the years since, Skyrim has been ported over to PS4, Xbox One, and even the Nintendo Switch. If your experience with the game is a hugely positive one via Game Pass, then it's worth keeping an eye out for The Elder Scrolls 6.
There are a couple of other quality games coming to Xbox Game Pass this December. On December 17, Among Us (the online multiplayer social deduction game that's taken the world by storm) will be added to the subscription service. On that same day, Bandai Namco's anime stylized "Souls-like" action RPG Code Vein will also be available for subscribers.
Joining those two big titles is Supermassive Games' horror-fueled interactive adventure game, The Dark Pictures Anthology: Man of Medan. If you're down to engage in some shootout sequences that evoke memories of Max Payne's Bullet Time mechanic, then be sure to check out My Friend Pedro when it joins Xbox Game Pass.
Puzzle game fans can look forward to checking out Morkredd on December 11, plus the adventure/strategy/simulation hybrid Beholder: Complete Edition will be downloadable on December 17. The roguelike deckbuilding game known as Monster Train and the motorbike racer called MotoGP 20 will also join Xbox Game Pass on that very same day.
The other two titles that are slated to join Xbox Game Pass on December 17 are Wilmot's Warehouse and Neoverse. Xbox Game Pass's December 2020 lineup is looking quite plentiful, to say the least, but the big ticket here is clearly Skyrim.