A Christopher Nolan Video Game Seems More And More Likely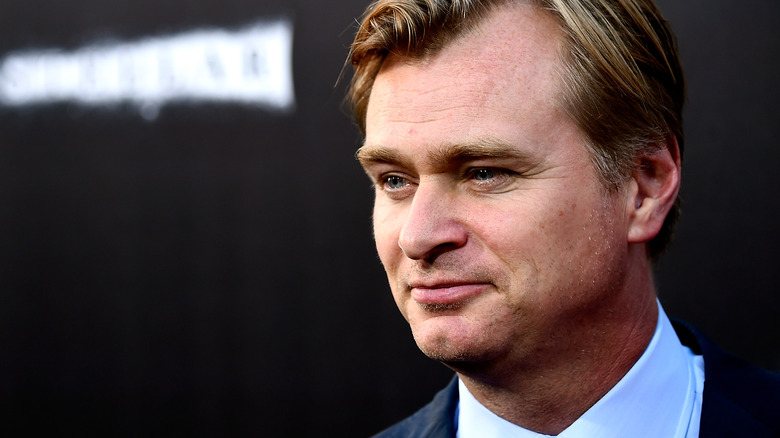 Frazer Harrison/Getty Images
The film industry has come a long way in its adaptations of video games since the cash grabs of the '90s and 2000s. (Who remembers Dwayne Johnson in Doom?) Today, directors like Christopher Nolan seem to recognize the video game medium for its potential. Nolan, director of the Dark Knight trilogy, Inception, and most recently Tenet, said he's "definitely" interested in creating a video game during a live interview with Game Awards host and producer Geoff Keighley on Sunday, Dec. 20.
"We've looked at some of them over the years ... Of course, what you realize is making films is complicated and it takes a lot of time. Making video games is even more complicated, and it takes even longer, and the way the video game industry works ... it's really tough," Nolan responded. "You don't want to just be doing a licensed game. You don't want to just be tying into something and using the brand established by the film ... You don't want it to just draft off the brand. You want it to be something great."
The British-American director has gotten increasingly cozy with the video game industry recently and was introduced by Keighley during the 2020 Game Awards to present the Game of the Year on Dec. 10. Nolan also expressed his interest in the medium before presenting the award.
"For me, I've always been interested in telling stories that immerse the audience. I like movies that unfold in unexpected ways and pull people into a world. When I look at video games, I see a lot of parallels with that kind of storytelling," Nolan said. "How players, agency, and choice intersect with more traditional storytelling methods. It's exciting to see and really quite groundbreaking."
Nolan has flirted with the idea of making a video game since at least 2010, when he reportedly told Variety he was considering a video game based on the world of Inception because it "has all kinds of ideas that you can't fit into a feature film." 
Beyond the Game Awards, 2020 has forged additional connections between the video game industry and Nolan's work. Before its theatrical release, Fortnite hosted the world premiere of a trailer for Nolan's Tenet. Epic Games later offered fans a "Movie Nite" via Party Royale with a digital screening of Nolan films.
Although Nolan does not have any confirmed video games projects in the works, there is an obvious trend.