What This New Electronic Arts Patent Could Mean For The Future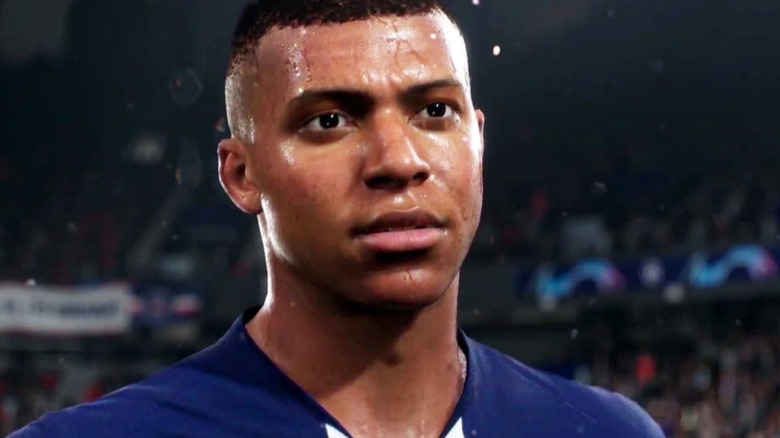 EA Sports
A new piece of software that is being developed under the Electronic Arts brand promises to keep a closer eye — or in this case, a closer ear — on what kind of music gamers are listening to. The gaming publisher filed for a patent back in October, and now the details regarding the program have just been made public.
According to the patent description, the software will use tracking technology in order to get an idea of what kind of music players who have the program are listening to. Ideally, EA is aiming for the program to produce "real-time audio generation for electronic games based on personalized music preferences." This essentially means that EA wants the software to generate tracks that are similar to a player's music taste based on their listening history. This generated music would more than likely play in the background of certain EA titles.
While EA may be trying to use this software to better engage with players, it might not sit well with players who want to keep their data private. According to the patent description, the software plans on "requesting listening history information from one or more streaming platforms," and from there checking out what "music playlists to which a user created or is subscribed." While it's unknown which platforms will be involved in this software, it's really hard to judge whether or not music history is going to be the only kind of data these companies are going to allow EA to look at.
More recently, security concerns in gaming have been subject to heavier scrutiny. Newer titles like Genshin Impact received a ton of backlash after players learned that if they linked their account with their phone number, the entire number appeared on the screen when typing in their username. There were also other security issues involving the game's anti-cheat program continuing to run in the background, even after players logged off. Meanwhile, a recent update for the Nintendo Switch sent owners of the console in a fury when the patch automatically turned on data sharing with Google. 
This isn't the only patent EA has filed for. The company also has new AI technology in the works under its name. This new tech would use machine learning in order to help computers better adapt to a players style. This patent could raise issues for EA, considering the company is currently facing a lawsuit that's accusing the publisher of purposely creating difficult AI in games like FIFA 21, theoretically as a way to get players to buy loot boxes. Alongside the music software patent, this new tech really raises questions as to what EA is planning for its future titles.