You Can Buy A Black PS5 Starting January 8th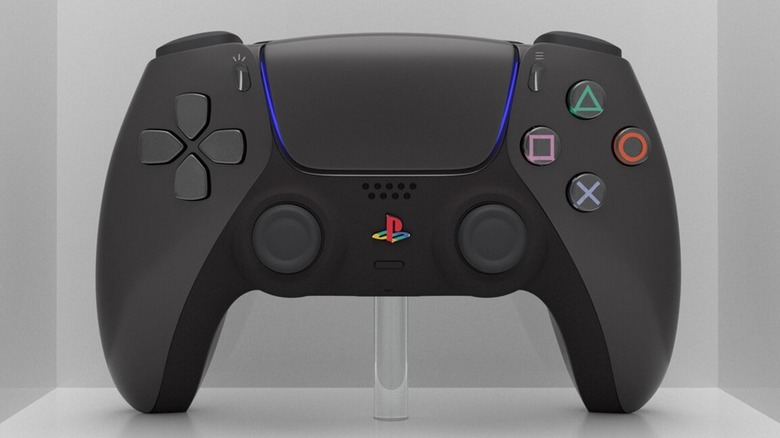 SUP3R5
If the PlayStation 5's black-and-white color scheme isn't to your liking, you can soon purchase a PS5 in classic mono-black. There's just one problem: the offer is as official as a toaster that can play NES games.
The team of dedicated gamer geeks known as SUP3R5 recently unveiled a line of 304 "retro inspired" PS5s and 500 DualSense controllers. Each console and controller will be completely black with colored logo inserts to break up the scheme and give owners PlayStation 2 flashbacks. SUP3R5 promises these special products are assembled with the utmost care and gloved hands. The items will go up for sale on Jan. 8 and ship late this spring.
You might wonder if this offer comes with a catch, and the answer is no — it comes with several. First off, the custom consoles and controllers are more expensive than their official counterparts. Instead of the standard $500 for the PS5 and $70 for the DualSense, SUP3R5 will charge $650 for the Digital PS5, $750 for the Disc version, and $100 for the controller. Also, the conversion process involves disassembling a DualSense and placing its innards into a new shell, which voids the device's warranty. If you purchase a controller and it experiences stick drift or its triggers break after you've modded it, you're on your own. The PS5, meanwhile, won't be disassembled, so its standard warranty should remain intact.
Moreover, SUP3R5's custom offerings are all based on the US version, which means they ship with a cable designed for US power outlets. If you live outside of the country and want a black PS5, you might need the appropriate adapter. Furthermore, the team follows a strict no return policy. Once you buy the all-black PS5 or DualSense, there's no going back.
On the bright side, SUP3R5 has learned from Sony and Microsoft's mistakes and implemented anti-scalper measures. You can only buy one console and two controllers per household.
If these tailored black products are giving you déjà vu, you probably remember the custom PS5 plate fiasco. PlateStation was a company that offered PS5 faceplates to personalize consoles, but the business quickly ran into problems that started with a name change (to Customize My Plates) and ended with the company shifting its focus away from faceplates to avoid a lawsuit. While SUP3R5 has not announced any litigation from Sony, the threat of a Cease and Desist still hangs in the air.
With any luck, the black PS5 and DualSense will be the beginning for good things for and from SUP3R5.