This Is The Only Way You Can Get These Assassin's Creed Valhalla Skill Tree Nodes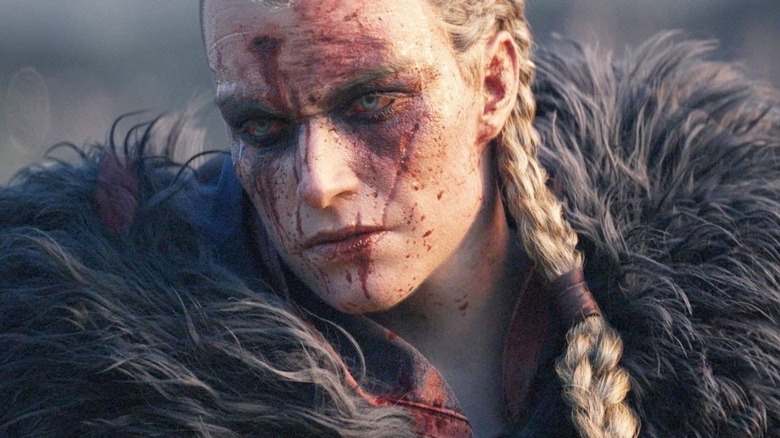 Ubisoft
Assassin's Creed Valhalla, like the Assassin's Creed games before it, is rife with unique and in-depth gameplay systems, including a skill tree system. The skill tree in Assassin's Creed Valhalla briefly received three additional abilities, though they abruptly disappeared from the game shortly after their addition.
However, some players have found workarounds to get these abilities. Kotaku writer Aris Notis reported that they were able to retrieve the abilities on the Xbox Series X version of the game. Upon disconnecting the Xbox Series X from the internet and starting the game up again, however, the abilities reappear.
The Bear skill tree, the Raven skill tree, and the Wolf skill tree each receive one extra ability through this method. The Bear skill tree received the Fight Ready ability, which grants players an adrenaline shot before heading into battle. The Raven tree's Assassin Carry enables players to automatically pick up a corpse upon assassination. Finally, the Wolf skill tree's Arrow Looter makes it more possible to pick up arrows from archers.
Ubisoft stated that the skills aren't "ready for release yet," according to Kotaku, and said players should stay online to "prevent any issues with gameplay." In the end, the choice seems to be the player's if they are really itching for more abilities to pursue. However, the abilities themselves don't exactly appear groundbreaking or otherwise worth the workaround.
In addition to series feature mainstays, such as the skill tree, Assassin's Creed: Valhalla also adds numerous new features players have never seen before in the series. Along with the standard skill tree and abilities, players can acquire Books of Knowledge, which grant special abilities outside those found among the three skill trees. The game also includes the ability to dual-wield weapons in true viking fashion to take down hordes of enemies.
As for other Assassin's Creed: Valhalla content to come, Ubisoft's roadmap includes several notable pieces of content. The game's season pass includes The Legend of Beowulf quest, which is already available for players to start. However, the game's first major expansion is the Wrath of the Druids, which will launch in Spring 2021. The second expansion is the Siege of Paris, which will launch in Summer 2021. Beyond that, Ubisoft promises free seasonal content, including the Yuletide Festival, which ends Jan. 7, and the River Raid mode, which will be added in February. 
Assassin's Creed: Valhalla is currently available on PC, PS4, PS5, Xbox One, and Xbox Series X.