Xbox Breaks Its Silence On Controller Batteries Claim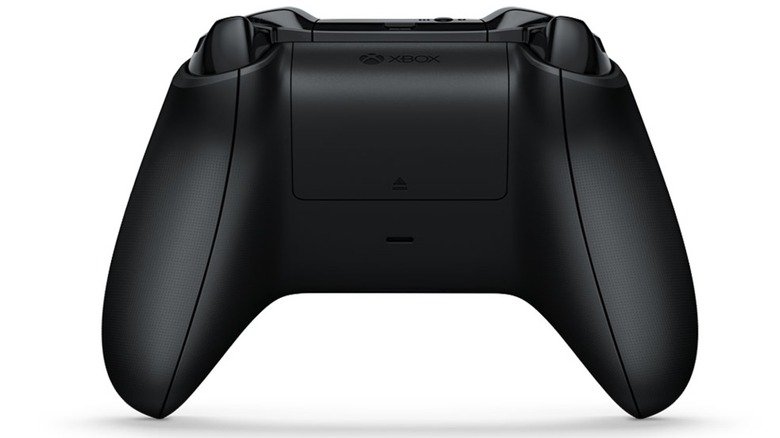 Microsoft
Update 1/7/21: Microsoft has denied reports that its decision to use batteries in Xbox controllers was prompted by an agreement with Duracell. "We intentionally offer consumers choice in their battery solutions for our standard Xbox Wireless Controllers," the company's spokesperson said in a statement to Eurogamer. "This includes the use of AA batteries from any brand, the Xbox Rechargeable Battery, charging solutions from our partners, or a USB-C cable, which can power the controller when plugged in to the console or PC." Our original story follows.
The future of electronics looks a lot like rechargeable batteries. The AA battery has fallen out of favor for built-in energy packs that never need replacing. Nintendo and Sony have fully embraced the technology — every proprietary game peripheral they produce comes with rechargeable batteries — which leaves Microsoft the odd man out. All Xbox controllers still run on AAs, which raises the question of "Why?" Is it part of a conspiracy to drive up battery sales? Actually, that might not be too far from the truth.
Before the Xbox Series X launched, Microsoft's Partner Director of Program Management Jason Ronald revealed the new console's controllers would stick to AA batteries, reasoning that some gamers prefer them over rechargeables. However, according to Stealth Optional, the real reason is allegedly that Microsoft entered into a quid pro quo agreement with Duracell. The company supposedly provides Microsoft with all the batteries it needs, and in return, Microsoft prioritizes peripherals fueled by disposable batteries over rechargeable ones — although you can still purchase separate rechargeable batteries for your controllers.
However, the deal purportedly goes much deeper than just designing Xbox controllers with AA compartments. Duracell's UK marketing manager, Luke Anderson, told Stealth Optional that Duracell also provides Microsoft with batteries for all Xbox peripherals. More importantly, Anderson stated, "I think [the deal] needs to go for a while [more]," indicating players should not expect Microsoft to drop the AA design anytime soon. Even if the company were to adopt a new controller design based on the PlayStation 5 DualSense, these new hypothetical devices would still require alkaline batteries.
If you thought this partnership ended at an allegedly mutual back scratching, think again. Duracell is going all-in on the gaming angle, from giving away two weeks of Game Pass Ultimate with each $10 pack of Duracell Optimum to sponsoring streamers such as Symfuhny. Additionally, even though Duracell has yet to follow KFC's example and build its own game console, Duracell now has the next best thing: its own esports team. Duracell is now the official sponsor of Gareth Bale's Ellevens Esports.
While Duracell may be ramping up its presence in the gaming world — and possibly partnering with Microsoft to help spread its roots — one must wonder how long the supposed partnership will last. Anderson would prefer a perpetual one, but Microsoft has tested the rechargeable battery waters with the Xbox Elite Wireless Controller Series 2 and Xbox Adaptive Controller. Only time will tell if the next Xbox console sports AA-powered controllers or if the Series X will finally give up the alkaline-fueled ghost.