What This Key Feature Means For Gotham Knights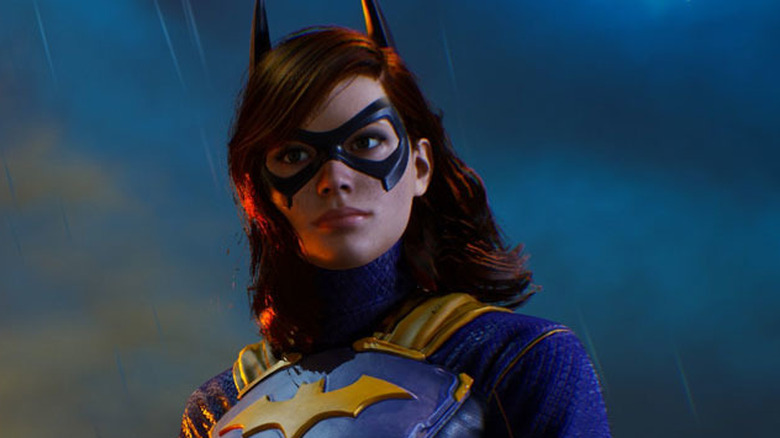 Warner Bros. Interactive Entertainment
It may have taken forever to officially learn about it, but Batman fans finally know a bit more about the next adventure to take place in Gotham City.
Warner Bros. Interactive Entertainment and WB Games Montréal are giving the Bat Family the spotlight in the upcoming Gotham Knights. Batman and GCPD Commissioner James Gordon are reportedly dead within this game's universe, which causes a rise in crime and corruption in Gotham City. The saviors that rise up to quell the madness within the city are Nightwing, Batgirl, Robin, and Red Hood. And players will get the chance to pull off some heroic antics alongside an online friend via Gotham Knights' two-player co-op feature.
Gotham Knights' executive producer Fleur Marty dropped more details about the game during a recent interview with GamesRadar. The most intriguing tidbit from that article broke down the concept of character experience points being shared between all four Bat Family members.
"Since the story progression is shared between all the characters, it also makes sense that you don't have to level them up from scratch every time you want to switch," Marty stated. "It also stays very coherent in terms of our narrative. Since the other members of the Batman family are always present in some way in the background, while you're out in the world fighting crime or unravelling the mystery, they don't stay inactive. So it makes sense that they are also progressing and getting stronger."
With that mechanic in place, gamers won't have to worry about switching to another character and suddenly being severely under-leveled for the threats they're about to encounter. Grinding for experience points just so you can get your favorite hero up to snuff is an element that thankfully won't be present in Gotham Knights, which is a definite plus. GamesRadar's article also noted that enemies will scale up with your characters' progression levels, so you won't run the risk of being over-leveled, either. Instead, the game should remain challenging from start to finish.
Another feature that's set to make Gotham Knights more faithful to its source material is an investigation mechanic. The presence of something referred to as "Villain Crimes" will push players to become digital detectives, piecing together the details needed to take down Gotham City's worst criminals. Players are going to need to delve into the city's even darker corners if they have any hopes of taking down the Court of Owls.
Gotham Knights is set to launch in 2021 on PS5, Xbox Series X|S, PS4, Xbox One, and PC.