Gotham Knights And Suicide Squad Game Leaks Unpacked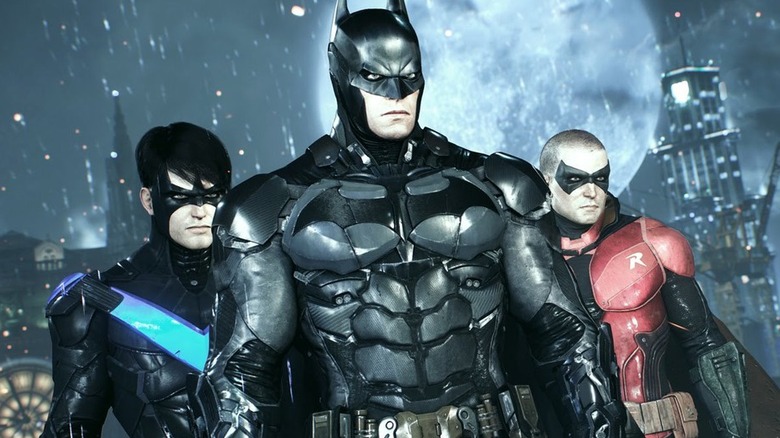 Things have been pretty quiet lately in regards to the next Batman-related video game. It's been five years since Batman: Arkham Knight, but it appears as though Warner Bros is getting ready to announce something big.
ResetEra member DrifitingOrbit has discovered domain registrations for ""suicidesquadgame.com," "suicidesquadkillthejusticeleague.com" and "gothamknightsgame.com." All three of these appear to have been registered recently through Warner Bros.
According to sources close to Eurogamer's Tom Phillips, the next game from Batman Arkham developer Rocksteady is actually titled Suicide Squad Kill the Justice League. It would presumably entail exactly what the title would imply, featuring a plot line in which the ragtag band of supervillains are sent into battle against the Justice League.
It would certainly make a lot of sense to lean heavily into the Suicide Squad for a video game. The very concept of the team lends itself to all kinds of weird and obscure villains. Also, members of the team don't tend to last particularly long, so there's a chance that a Suicide Squad game could introduce a wide array of characters that have never gotten their time to shine in a video game before.
Not only that, but there's a new film featuring the team that is expected to come out next year. The Suicide Squad is directed by Guardians of the Galaxy director James Gunn and stars Margot Robbie, Idris Elba, and more. With a new Suicide Squad flick on the way, now would seem to be a great time for a video game to tie into the hype.
We've heard rumblings of a Justice League-related game being developed by Rocksteady, but they've never seemed to pan out. In fact, earlier this year, we got our first look at concept art for a scrapped Superman video game that was supposed to be from Rocksteady. This crossover game would be a great way for fans of the Justice League to finally see what Rocksteady could do with the characters, albeit in a game that seems to focus a little bit more on the bad guys.
It's also worth noting that the Suicide Squad does indeed exist in the continuity of the Arkham games. Members of the Squad are seen being recruited during the events of Batman: Arkham Origins and Batman: Arkham Origins – Blackgate. Also, the DC animated film Batman: Assault on Arkham is set within the continuity of the Arkham series. In other words, if Rocksteady wanted to tell an Arkham-adjacent series without completely side-stepping the established storyline, this would be an interesting way to do it.
Lastly, there's plenty of precedent for a Suicide Squad and Justice League crossover. In fact, just a few years ago, DC Comics ran a crossover event called Justice League vs. Suicide Squad. In other words, it's not entirely out of the question that something like this could happen, and there's already a piece of comics media that Rocksteady can base the story on.
The other domain that has been registered should also ring some exciting bells for Batman fans. "Gotham Knights" would be a particularly interesting title because of the various hints we've received regarding the next Batman game. For months, WB Montreal has been participating in a bit of viral marketing, displaying cryptic symbols on both Twitter and at public events. These symbols have occasionally been accompanied by the text, "Capture the Knight."
Between the ominous phrase and the bizarre symbols, people have speculated that the next game in the Batman franchise would incorporate some of Batman's creepiest villains: the enigmatic Court of Owls. In the comics and the animated film Batman vs. Robin, Batman was taken by the Court of Owls and it took the work of his partners in crimefighting to save him. The title Gotham Knights would certainly evoke the idea of a team-based game. Maybe fans will get to play as Robin, Nightwing, Batgirl, and more in the near future?
Also, much like the Suicide Squad, the Batman himself has a new feature film on the way. The Batman is directed by Matt Reeves and stars Robert Pattinson as the Caped Crusader. It should hopefully be hitting the big screen in 2021.
As with any rumor involving the Dark Knight Detective, these latest apparent leaks are sure to have fans speculating like mad. Hopefully we'll hear something in the near future. For right now, however, all we have to go on are these domain registrations. Our best bet for Batman video game news at this point appears to be waiting until DC's FanDome event in August. Supposedly, WB games has a big announcement coming for fans at that time.