What Madison Beer's Virtual Concert Could Mean For PlayStation VR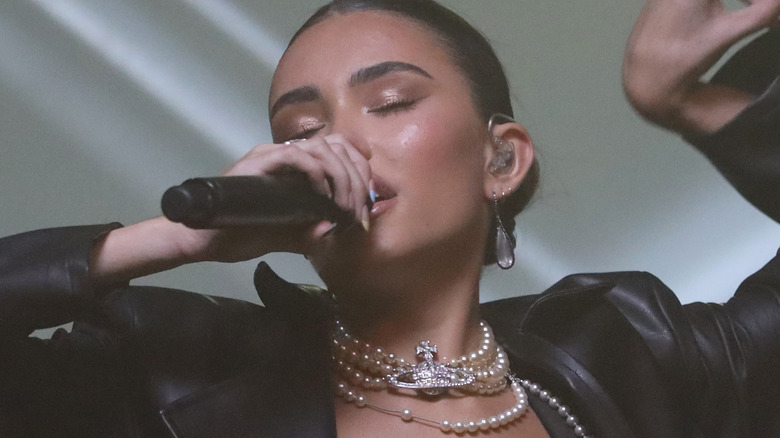 Rich Fury/Getty Images
The COVID-19 pandemic has forced the world to adapt in a lot of ways. It has affected many industries, including video games and the entertainment industry. While live entertainment has been put on hold, artists have found new ways to continue their work. Of course, YouTuber-turned pop sensation Madison Beer knows how to leverage digital platforms to grow in her career, and it looks like she is joining Sony for an event that could change the future for PlayStation VR.
Announcing that "the future of virtual concerts is here," Sony's Twitter account promoted a "new immersive reality concert experience." Partnering with Verizon, Sony is putting together a virtual concert event for Madison Beer that could establish an entirely new form of concerts, with PlayStation VR leading the way in this new medium. Several behind-the-scenes videos were recorded for CES 2021 to show how all of this was made possible.
This is an interesting new step into the future, and fans seem pretty pumped. One user already decided that "this is truly the best concert experience," while another simply Tweeted "Amazing!" Some Twitter users are still hung up on the PS5 launch debacle, however. A few fans ignored the VR announcement and pleaded simply asked Sony to release more PS5s for purchase.
The PS5 launched without a few key PS4 features. While the PS5 does support PSVR in a bizarre way, it does not have a dedicated new headset, forcing users to jump through some hoops to experience virtual reality using PS4 gear. For Sony fans who were concerned about the fate of PSVR, a recent patent hinted that PSVR 2 may be coming to the PS5. Now that Madison Beer's virtual concert is backed by Sony, it lends some credence to the hope that PSVR will continue to have a strong presence, and perhaps a growing prominence as the PlayStation 5 matures.
This virtual concert could be the first of many new immersive experiences hosted by Sony, which means PSVR may go beyond the bounds of gaming and into a broader range of entertainment. Perhaps the next evolution of PSVR will pioneer virtual socialization with movies, sports, conventions, and other simulated live events.
For Madison Beer, she may continue to explore the virtual realm. After all, Beer already had a good experience performing for the virtual pop group K/DA, so this event is the next logical step.
The concert is due this winter, and will also be available on Oculus VR and traditional 2D formats. Whether or not live performances will be viable by then, this is a big moment in virtual reality history.