The Rick And Morty Easter Egg You May Have Missed In Doom Eternal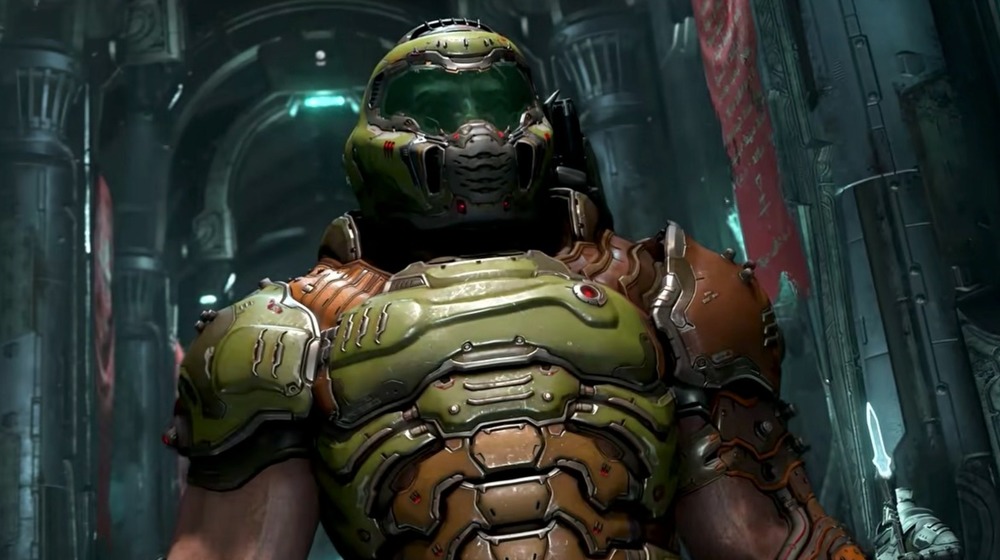 Bethesda Softworks
In the Doom series, you play  a space marine who guns down demons from hell. It's a fairly simple premise, yet it has become a remarkably iconic franchise. The classic first-person shooter has been around for almost 30 years, and its legacy is still going strong with a recent entry in the series: Doom Eternal.
Even though the game was delayed, it eventually launched to eager fans. When gamers finally got their hands on it, they found that Doom Eternal is full of what they love: gratuitous gun violence, incredible weapons, and of course, plenty of Easter eggs. 
Going on an Easter egg hunt in Doom Eternal will net you a number of satisfying secrets, including a reference to a beloved adult animated series. Rick and Morty fans will find a lil' something waiting for them in one of the game's shops. For anyone who is dying for the fifth season of the Adult Swim series and in need of some more Rick and Morty goodness in their lives, this Doom Eternal Easter egg may be just what the doctor ordered.
Lil' bits!
Fans of Rick and Morty no doubt remember the series' Interdimensional Cable episodes. They were loose, improvisational, and utterly hilarious tangents that offered viewers a break from the craziness of the ongoing Rick and Morty saga.
In the second Interdimensional Cable episode, there's a bizarre advertisement for a restaurant called Lil' Bits. It's one of the more memorable moments from the series — memorable enough to have found its way into Doom Eternal.
When you enter a shop in Doom Eternal, pay attention to all the shelves, as they are packing tons of Easter eggs in the form of snacks and candy. You'll pass a box that at first glance may look like Reese's Pieces. Upon closer inspection, you'll realize they are not the popular Reese's candy, but rather a box of "Lil' Bits," which is, of course, a "really tiny candy." The Doom Slayer's mouth probably isn't small enough to properly enjoy these tiny treats, but any fan of Rick and Morty is sure to get a kick out of this Easter egg.