McDonald's Is Hopping On The Pokemon Card Train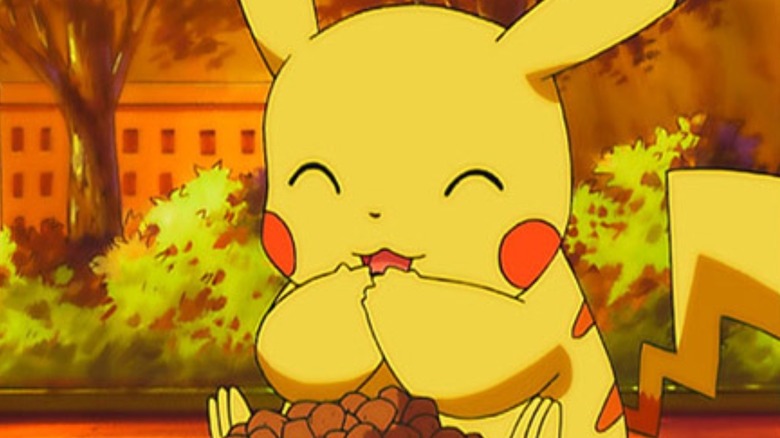 According to Pokemon streamer and seasoned news reporter PokeJungle, McDonald's is bringing back Pokemon cards to Happy Meals around the country, and soon!
In a tweet, PokeJungle showed alleged leaked Pokemon promotional displays from McDonald's. You can see 25 different Pokemon cards at the bottom of the picture. You won't even have to buy 25 Happy Meals to catch 'em all — a sentence below the cards states that 4 cards will feature in each Happy Meal. If you're lucky, you can collect all the cards in seven meals!
Another Twitter user, PkmnTrainerAbel, replied to the tweet with what appears to be an additional leaked promotional image. According to that image, the cards will hit Happy Meals on Feb. 9, 2021 and continue rolling out until March 8, 2021. It looks like there are also stickers, a Pokemon card case, and a frame made to display the Pokemon cards. Whether those items will be in Happy Meals is still up for debate, but it seems they'll be available in some way at McDonald's.
The official McDonald's Happy Meal website may offer some credence to the rumored launch date. While the actual site doesn't include a date for the current toys to rotate out, the Google description of the site does. If you Google "McDonald's Happy Meals toys," the Happy Meal site pops up as the first search result. The paragraph below the URL states that the current Hasbro toys won't' be available after Feb. 8, 2021.
Though not officially confirmed, it seems the cards will serve as a special event for the 25th anniversary of the Pokemon franchise. On the Pokemon anniversary website, The Pokemon Company listed McDonald's as one of the brands it's partnering with to release promos and merchandise. It plans on hyping up the celebration all year long, and there's still more news to come about brands and artists involved. The group already released a teapot set, and even Levi's has teased a clothing line collaboration on Twitter. The website also mentioned that General Mills, Funko, Mattel, and Scholastic will be involved with the celebration at some point in the year, along with special Pokemon Go content.
This isn't the first time McDonald's has worked with Pokemon. You can see many of the Pokemon card promos that have come from McDonald's via online card and collectible trader TrollandToad.com – some of them are even worth a pretty penny. McDonald's has also released collectible Pokemon toys in the past. While these freebies weren't quite as impressive as other Happy Meal toys, it's still not surprising that The Pokemon Company decided to work with the fast food chain again.