Sonic Is Joining Forces With This Classic Toymaker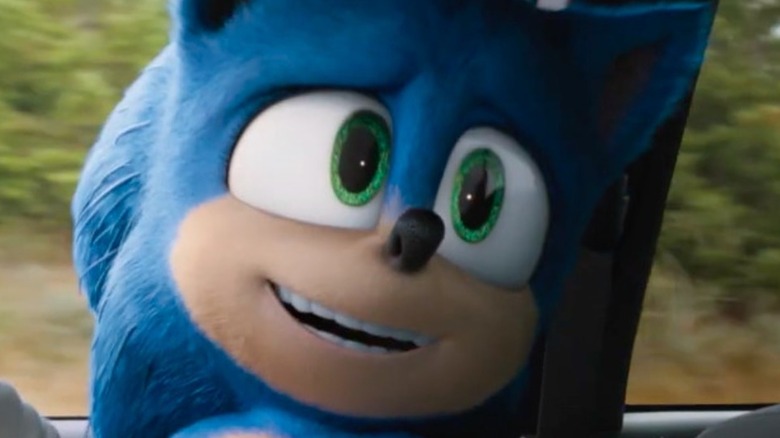 Some rivalries never die. While Mario and Sonic may have become friendlier over the years, it doesn't mean they can't still compete against each other. Mario and Nintendo received the Lego treatment with a full line of buildable sets, and now it looks like it's Sonic's turn to get a set of his own.
Lego Ideas encourages the community to create and pitch their own Lego sets, after which their creations are featured in a pool of user designs. If a fan project receives enough votes, it can land in stores as an officially licensed Lego product. One of the most recent winners is a set called "Sonic Mania — Green Hill Zone." Sega has entrusted fans with Sonic before and it yielded positive results, so it makes sense that a new Lego set would come from the mind of a fan.
The set's designer, Viv Grannell, is a UK-born Lego enthusiast who has always been a Sonic fan. She spent approximately three months over the course of roughly two years to complete the project, with the final design comprising an estimated 700 pieces. Another set, dubbed the "Encore mode," was made up of around 520 pieces.
In recent history, Sonic seems to be enjoying a lot of new opportunities. He made his big-screen debut last year, which wound up being one of the highest-grossing video game movies of all time. The film did well enough that there's a Sonic the Hedgehog 2 movie on the way. A new animated Sonic series has been announced for Netflix. And for all the Fall Guys fans out there, you can unlock a Sonic skin in the wildly popular battle royale. Sonic's certainly been busy.
In fact, this year marks the 30th anniversary of Sonic the Hedgehog. Nintendo went all out for the Super Mario Bros. 35th anniversary, and it's looking like Sonic will be having quite the celebration of his own to commemorate his big 3-0.
Considering how the Mario Lego series has expanded, one can only assume that this fan-designed Sonic set is just the beginning. Now that Sonic is diving into the brick pool with Mario, this opens up the possibility of crossover sets. The two video game mascots duked it out in the Olympics, so why can't they co-exist in a Lego set?
The final price, design, and availability have not yet been revealed, but if you're a fan of the blue blur, this is one set you cannot miss.