This Character Clone Is A Big Problem For Activision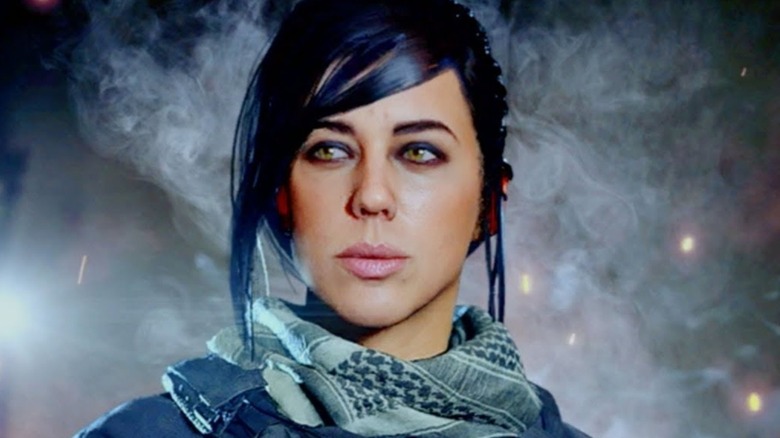 The Call of Duty franchise has gifted fans with many great games over the years, and 2019's Modern Warfare is no exception. It was breaking sales records a year after its initial release. Modern Warfare received favorable reviews from critics, and though it's had a few bugs along the way, fans still love it. Now, the game's developer, Activision Blizzard, has a lawsuit on its hands.
According to a legal complaint shared by TorrentFreak, writer and photographer Clayton Haugen has filed a lawsuit against Activision Blizzard, which allegedly copied a character from his short story "November Renaissance." The legal complaint describes Cade Janus, the protagonist of "November Renaissance," as a "female vigilante and pariah figure," and compares Janus to Mara, an Operator in Call of Duty: Modern Warfare. Haugen produced a photoshoot to accompany the short story, and posted the results on Instagram back in 2018.
The case claims that Activision Blizzard used Haugen's character design as part of an effort to create more diversity in the Call of Duty franchise, but the meat of Haugen's complaint deals with his intention to use both the photoshoot and "November Renaissance" as a proof of concept for film studios. Haugen planned to use the photographs as concept art, but claims that Activision Blizzard sought to recreate his shoot to develop the character of Mara. Haugen claims that Activision Blizzard hired the same model and styling team when creating Mara in Modern Warfare. Haugen's legal team alleges that Activision Blizzard knowingly recreated the "November Renaissance" photoshoot, and required the team involved to sign nondisclosure agreements.
The full case file provided pictures that compare Mara's character design with Haugen's Cade Janus photoshoot. While there are similarities in poses and composition, only time and more investigation will determine the veracity of Haugen's claims. To be fair to Haugen, this wouldn't be the first time Activision got caught up in some shady activities. However, internal battles for power and plagiarism claims are two completely different scenarios.
Because Cade Janus is a copyrighted character, Activision Blizzard might be in a bit of trouble, depending on the outcome of this case. Although Polygon reached out to Activision Blizzard and Haugen, neither party have responded at this time. 
Rumors indicate that a next-gen version of Modern Warfare may be on the way in 2021. Though no official announcements have been made yet, Modern Warfare definitely has a place in fans' hearts, despite whatever legal issues come its way.