The Sad Reason Jacksepticeye Went On A Break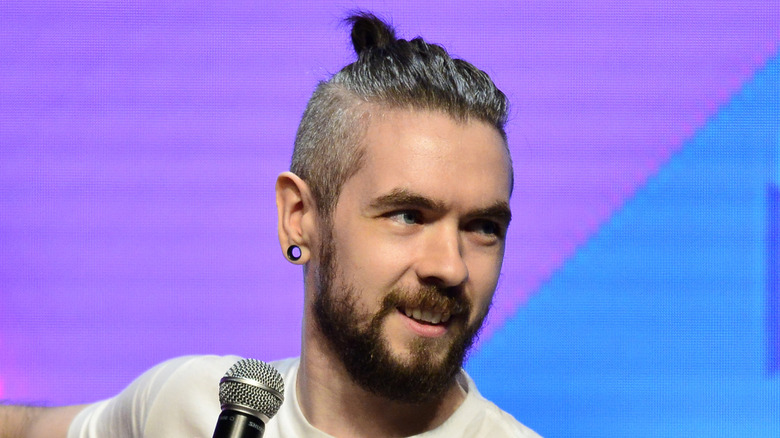 Jerod Harris/Getty Images
On January 27, Sean McLoughlin, better known to his millions of followers as Jacksepticeye, tweeted some devastating personal news. "My father passed away today. I wont [sic] be doing anything for a while. Please respect me and my family's privacy during this time," the Irish YouTuber shared. A few days later, McLoughlin followed up by thanking his fans and friends for their support, along with a few pictures of his late father. He also shared that his hiatus doesn't have a time limit, writing, "I don't know when i'll be back, i'm trying to take the right time to process all of this." McLoughlin has cleared his Twitch schedule for the time being.
One million supporters liked McLoughlin's initial tweet, and several famous faces showed up to express their condolences. Matt Mercer, the host of tabletop gaming show Critical Role, tweeted, "Our thoughts are with you and your family, bud." Fellow streamer Corpse Husband also chimed in, letting his friend know that he's "a call away if you ever need it." Comedian Cian Twomey reminded McLoughlin that his father "is so proud of the achievements that you have made yourself, and I bet he's proud of himself for raising a really cool dude."
Of course, the internet can't let people have unconditional love, so several individuals flocked to McLoughlin's replies to make jokes about his father's passing. Most fans came to McLoughlin's defense, with one saying, "If you lost someone you were close to, how would you feel? You'd feel alone. Depressed. Etc. its [sic] sad some of these people exist." Thankfully, most of the comments seem to be positive and heartwarming.
In the past, McLoughlin has spoken about the unique pressures streamers feel from their audiences and admitted that he sometimes wanted to quit. However, McLoughlin has stuck with what he calls the best job he's ever had and has done a lot of good in the process. After Logan Paul made news for publicly disrespecting Aokigahara Forest in Japan, McLoughlin immediately organized a charity stream that raised over $200,000 for the American Foundation for Suicide Prevention. 
Hopefully, with his fans' support, McLoughlin will be able to take all the time he needs to grieve and recalibrate for his return to streaming. While McLoughlin has said he has no plans to return soon, he has posted an adorable picture of his cat nestled among remote controls to let his supporters know he's okay.