The Bizarre Reason This Stadia Game Was Canceled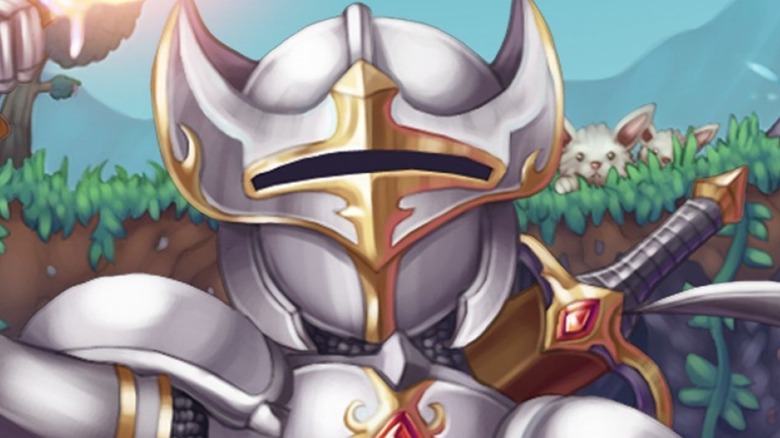 Terraria co-creatorr Andrew Spinks took to Twitter on Feb. 7, 2021 to announce that the popular 2D game will no longer be coming to the Google Stadia. While the game was never officially announced to be released on the cloud-based Google Stadia, it was rumored to be in progress when Reddit user Darth-Taterr leaked new PEGI ratings of Terraria with a Google Stadia release date.
The Stadia port was essentially confirmed and undone when Spinks announced on Twitter, "#Terraria for @GoogleStadia is cancelled." According to Spinks, he's been locked out of his Google account for the past three weeks and can't get in touch with Google about reinstating his account. He has no access to his Google Drive files, paid applications and movies, YouTube channel, or email. He mentioned that he's been using that email address for 15 years, and he's lost access to everything on the account, including the thousands of dollars he's spent on applications.
Spinks said that he has no idea why he lost access, and that he has "not done anything to violate [Google's] terms of service." In the same Tweet, he mentioned that he's taking this as Google burning a bridge with development around Terraria and to "consider it burned." Spinks also said that he views working with Google as "a liability," claiming that the company cares very little for its partners
YouTube's Twitter account responded to Spinks' tweets, asking him to share details on how he lost access so that he can be helped. However, other users didn't take this response well, with one person calling it the "worst automated response" to use.
Other game developers were quick to support Spinks. Doomed Child director David Holy commented that he wouldn't work with Stadia either, for similar reasons. Cleroth, another game developer on Twitter, said that he'd lost access to his entire Google account as well. Cleroth also has Tweets from December discussing this issue and how it occurred due to comments that fans said on his stream.
Terraria released on PC in 2011, and it's received content updates and maintenance patches ever since. With "Overwhelmingly Positive" reviews from Steam users, it's a popular PC game that's made its way to other consoles. Last week, Stadia fans received enough bad news as Google announced it would be shutting down two newer gaming studios. The Google Stadia has had a bit of a desperate struggle since launch, and the cancelation of Stadia's Terraria port is just the latest in a series of blows.