What The Return Of This Major Gaming Event Could Mean For The Future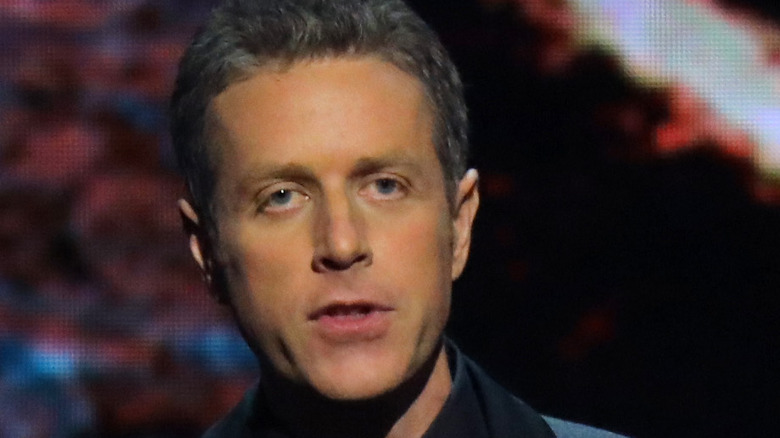 Jc Olivera/Getty Images
E3 is back in 2021, and promising to be better than ever.
For several years, the Entertainment Software Association has sponsored the Electronic Entertainment Expo, more commonly known as E3. The event has experienced some roadbumps over the past few years, causing inter-expo drama and concern from fans. While not every developer's E3 promises have come to fruition, the event itself has remained a staple in the video game community, playing host to a large number of big announcements and previews of upcoming games. Recent expos have seen fewer and fewer big companies at their events, and some have argued that household names like Sony and Nintendo don't really need E3 in order to sell games or make announcements. 
That being said, E3 was a spectacle for gamers and publishers alike, as well as a time to celebrate the wider world of video games. The initial plans for E3 2020 cast doubt on the future of the expo, and highlighted Sony's absence. Even Geoff Keighley, a long time E3 presenter and all around enthusiastic supporter, parted ways with the expo last year because of creative differences. Ultimately, E3 2020 didn't happen due to the COVID-19 pandemic, giving the ESA a year to come up with a new plan for the future of the event.
Now, Video Games Chronicle (VGC) has reported that E3 is on for 2021, albeit virtually. Pitch documents circulating in the gaming community indicate that the reimagined expo will take place over three days this summer, June 15-17. VGC explained, "The ESA's intention is to hold multiple two-hour keynote sessions from games partners, an awards show, a June 14 preview night and other smaller streams from games publishers, influencers and media partners." The expo will also have previews leading up to the three day event.
E3 won't be exactly what fans remember, though. In addition to taking place entirely online, E3 will be missing some familiar faces. In a private message to VGC, Geoff Keighley confirmed that he won't be returning anytime soon. The ESA also hasn't confirmed any companies participating in the show, although the organization stated that it is having "great conversations" with several big names.
Fans responded to the news online, noting some concern for the future of E3 while also sharing their excitement. One fan tweeted, "I thought they said that they were just canceling 2020's [conference] and moving onto next year. So I am not really that surprised, but still excited to see what they may reveal." Another gamer tweeted their support of E3 as an institution in the gaming industry, saying, "E3s are so iconic for the video game industry, tbh. I'm glad that it may come back this year." Others simply expressed the sincere hope that Nintendo makes an appearance at the upcoming event.
It may take some time for the damage done by the drama surrounding E3 2020 to heal, but it looks as though fans are ready for the conference's return.