There's Good News And Bad News About PS5 Controller Drift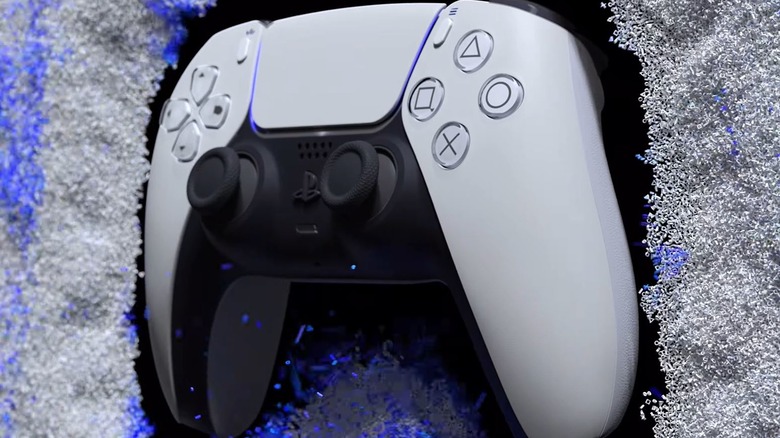 When a video game controller begins to register a movement input without the player actually pressing on the joystick, they are experiencing an unfortunate phenomenon known as "drift." It's an annoying issue, and it usually means that your controller is defective, not the game. And unfortunately, this is an issue that is beginning to effect more and more PlayStation 5 owners. That's right; the revolutionary DualSense controller is capable of some incredible things, but it can't quite avoid the ominous shadow of controller drift.
Players have begun sharing videos of their gaming mishaps that have been caused by controller drift. One gamer kept falling off of their constructs in Fortnite, thanks to their relatively new controller pulling them over to the ledge. Another person couldn't get Miles Morales to stop running into walls.  This issue is frustrating for PS5 players, to say the least. The good news is that PlayStation is offering support for customers experiencing DualSense drift. The bad news is that getting this support has proven to be something of an annoying process.
According to Kotaku's Ari Notis, PlayStation is currently overwhelmed with questions from gamers trying to get their hands on a PS5, which has been falling into the hands of more scalpers than actual fans. After instant messaging a customer service agent, Notis was told to call a support hotline for this particular issue. After listening to multiple messages regarding the unavailability of the PlayStation 5, Notis was placed on hold for 17 minutes. At last, Notis was told by a customer service rep that the DualSense's repairs were covered by the system's warranty. Notis cautioned, "You will, however, have to pay for shipping your controller to a Sony repair center—a cost that varies based on a number of factors, including location and the total weight of your package—but Sony apparently covers the return shipping."
So there you have it. If you're having an issue with your controller drifting, you can get it repaired while it's still under warranty. You'll just have to pay a bit to get the controller to the repair center.
Controller drift is a serious issue for players on every console family, and it has resulted in more than one lawsuit. Last year, Xbox was hit with a class-action suit over the drift issues in its controllers, with the Xbox Elite wireless controller being a particular offender. Meanwhile, two such lawsuits have been filed against Nintendo. In this instance, one of the suits claimed that Nintendo knowingly released a product — the Joy-Con controllers — that doesn't work as advertised.
Nintendo ended up handling this problem by offering free repairs through its customer service line. PlayStation is following suit, but it seems like this process has yet to be ironed out. It is also unclear what will change about this process when a customer's DualSense is no longer covered by a warranty.