The Hated Borderlands 3 Character Who's Getting A Second Chance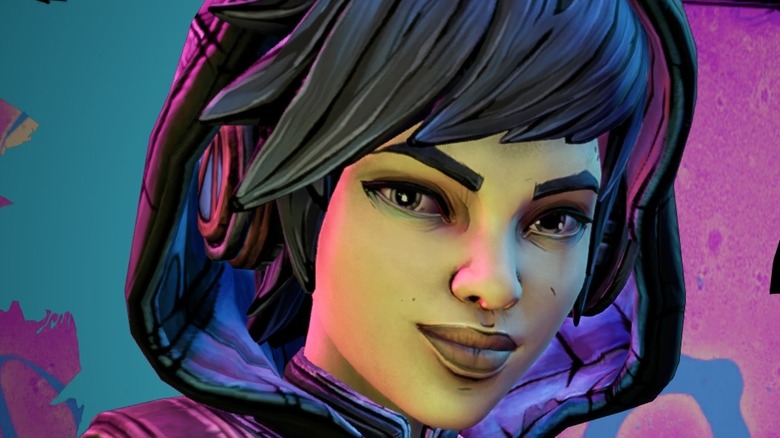 The Borderlands franchise has managed to introduce many colorful and exciting characters over the course of three main entries, one Telltale series, and a "pre-sequel." Out of all of the characters to have played a part in Borderlands' bonkers storyline, there may not be a single character who is disliked by fans more than Borderlands 3's Ava. Considering how dumb Borderlands 3 can be, that's saying something. And now, Gearbox has announced that the character will be the focus of a series of brand new missions.
In the new episode of The Borderlands Show, in which Gearbox typically gives fans a heads up about upcoming patches and new content for the looter shooter series, several big reveals were dropped. Among these is the fact that Ava will feature in a new side-quest in the Borderlands 3 Director's Cut add-on. 
According to Randy Varnell, Head of Gearbox Story Group, the writing team for Borderlands 3 has been toying with the concept of these Ava-centric missions for quite some time, but they didn't fit in with the original release of the game. These missions are inspired by paranormal podcasts and will follow Ava as she tries to solve a series of murders with the Vault Hunters in tow. 
Varnell remarked on his excitement for the project, stating that the addition of these missions brought the game much closer to the team's original vision for Borderlands 3's story. However, as pointed out by Borderlands Show host Greg Miller, fans may be confused by seeing such a disliked character getting a moment in the spotlight.
As explained by TheGamer, fans have found Ava to be "a 'Scrappy-Doo' character," someone whose attitude consistently puts all of the other characters in danger. Even worse, Ava is handed a number of huge responsibilities at the end of Borderlands 3, which many feel she didn't earn. 
Randy Varnell explained that Gearbox listened to fan feedback when it came to what people liked and didn't like about Borderlands 3. Varnell said that he understood that Ava didn't connect with audiences, but he felt like a lot of what made the character so great was unfortunately cut from the released version of the game. These new missions are way to show audiences the fuller version of Ava that they never got to meet.
In the comments on the official livestream, fans seem to be split on whether or not they support the idea of a new Ava-focused quest. On the dissenting side, some fans noted that this is likely to upset fans even more. One person wrote, "Wow, doubling down on the most hated character in all of [Borderlands]. What a genius move." Others seemed relieved to hear that Gearbox would be acknowledging fan complaints and fleshing Ava out a bit more. 
Fans will get to see if their feelings regarding Ava change at all when Borderlands 3 Director's Cut add-on drops on March 18.