The UK Just Put PS5 And Xbox Scalpers On Notice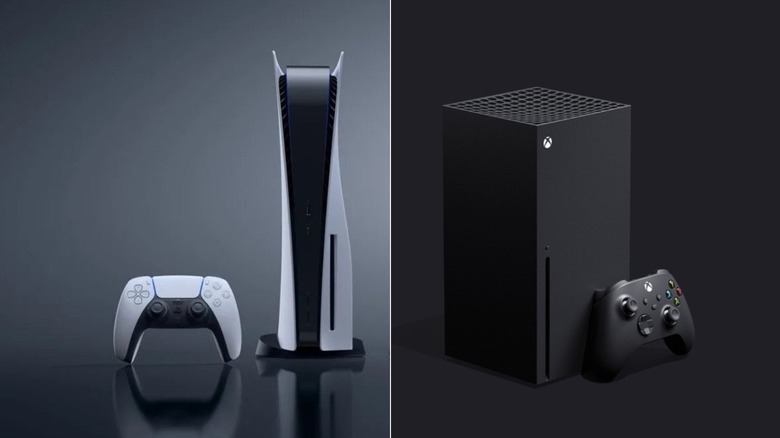 Ever since the PlayStation 5 and Xbox Series X consoles released in late 2020, scalpers have swooped in to pick up multiple units to turn around and sell for inflated prices. These dubious individuals continue to take advantage of desperate gamers looking to make the leap into the new generation of hardware. However, a new bill brought up in the United Kingdom could at last lead to some serious action and set the tone for how to combat the practice of scalping.
The Gaming Hardware (Automated Purchase and Resale) Bill was first presented to Parliament on Feb. 3, 2021. The bill aims to stop bots and other forms of automatic item purchasing, primarily related to video game consoles and computer parts, for the purpose of resale. Douglas Chapman MP, the member of Parliament responsible for presenting the bill, told Sky News that scalping is "a total scam." While Chapman said it's unlikely that this bill will pass and become law, his goal is to bring the problem to the government's attention.
Scalping is not a new practice, but with the pandemic hindering console production, it was the perfect opportunity for scalpers to profit off the limited supply and increasing demand. Just one month after launch, those reselling PlayStation 5 and Xbox Series X consoles were reportedly making millions of dollars.
Unfortunately, the lack of supply from Microsoft, Sony, and even Nintendo will likely continue well into 2021. As reported by Bloomberg Quint, a computer chip shortage, which has impacted companies such as Apple and Ford, is trickling down to console makers, thereby increasing the demand on the already small supply and adding more fuel to the fire of scalpers using bots to target retailers.
A report from Sony indicated that 4.5 million PlayStation 5 units sold in the final quarter of 2020 thanks to a strong lineup including games like Astro's Playroom and the Demon's Souls remake, as well as the hype surrounding the new DualSense controller. The Xbox Series X has reportedly struggled to keep up but offers a strong library through the Xbox Game Pass service. The new bill brought forth in the U.K. could help make sure these new consoles get in the hands of those who will use them for entertainment as opposed to sheer profit.