Call Of Duty May Have A Zombie Surprise In Store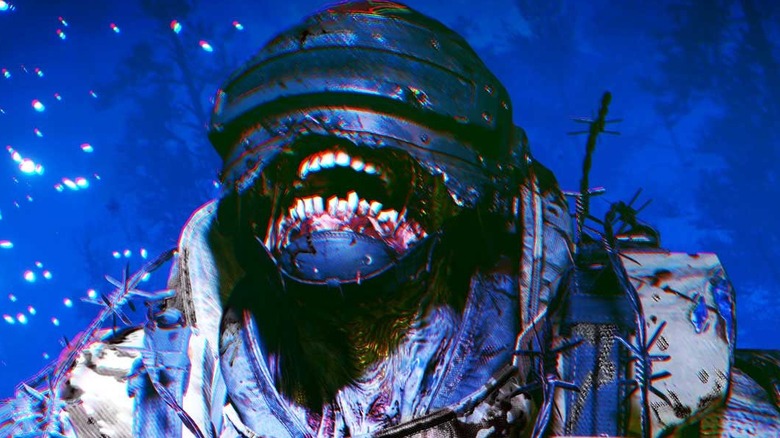 The Call of Duty leaks just keep on coming. Fans of the series may be excited to learn that the latest bit of unofficial info is related to Call of Duty: Black Ops Cold War's Zombies mode.
Prominent Call of Duty leaker Okami made the rounds on Twitter with some details regarding a new rendition of the famous wave-based co-op mode. Okami's tweet is as follows: "In other COD news – there's a new mode called Outbreak coming soon. Don't know all the details but it's supposed to be Treyarch style, co-op zombies on a large scale Fireteam map. I've heard it described as 'open-world zombies,' so take that for what you will." In response to a Twitter user that inquired if this new mode would allow players to still kill each other, Okami tweeted "It's co-op only is what I've heard." Neither Treyarch nor Activision have come forward to confirm this latest leak, however.
Other Twitter users chimed in to give their thoughts on this possible Zombies mode leak. One commenter made it clear that they wanted all new content in this rumored update: "I hope we're not just playing on the regular fireteam maps but just with zombies. I want NEW maps." Another Twitter user proclaimed their excitement about the leak by stating, "Sounds fun and I dislike the multiplayer. I'd play it to try at the very least." One other commenter also expressed some positivity: "I can't wait to hear more, I've always wanted open world Zombies."
This latest Call of Duty rumor joins another one revolving around the team developing the next installment of the series. Noted leaker ModenWarzone stated that Sledgehammer Games will be the studio responsible for making 2021's Call of Duty. Okami even added on to ModernWarzone's claim with a tweet of their own, which stated, "It's true, Sledgehammer Games will be heading COD 2021 with the help of pretty much every Call of Duty studio in existence." 
One of Okami's other tweets made sure to remind everyone of how lucky action game fans are this year. Okami wrote, "We're really getting a new COD, Battlefield, and Halo in the same year."
In more official news, Treyarch has already added a wealth of new content to Call of Duty: Black Ops Cold War, such as the new Firebase Z Zombies map, a 3v3 Gunfight variation that focuses on snipers, and the addition of Nuketown '84 to Gunfight mode. The latest Call of Duty game has actually earned plenty of acclaim praise from critics, and it has continued to receive new updates as the new year unfolds.