Here's Who Could Be Making 2021's Call Of Duty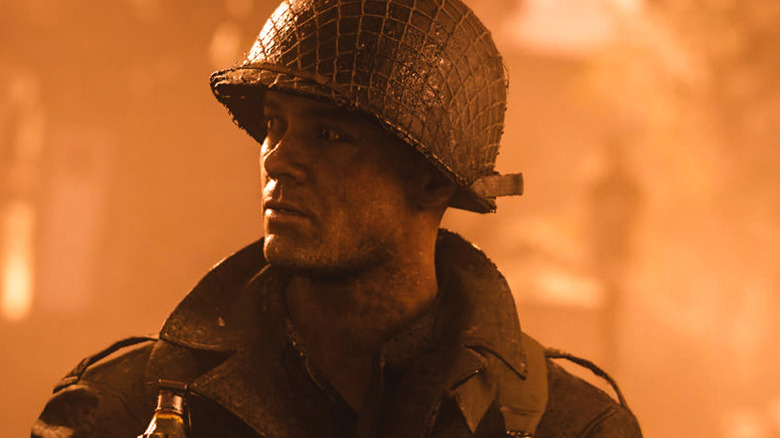 This might come as a shock to you all, but a brand new entry within Activision's Call of Duty series is coming in 2021.
During a recent fourth-quarter earnings call from Activision Blizzard, the publisher revealed the news. According to a claim from noted Call of Duty leaker ModernWarzone, fans now most likely know which company will be handling the development duties for the next Call of Duty. The leaker's Twitter profile put up a photo that alluded to Sledgehammer Games being tapped to reintroduce its brand of Call of Duty action in 2021. ModernWarzone's tweet further clarified, "The next #CallofDuty title is 100% being developed by [Sledgehammer Games]. While this information isn't official, it doesn't need to be taken with a grain of salt." In other words, ModernWarzone is feeling very confident in this leak.
Another leaker by the name of Tom Henderson lent even more credence to this rumor. One of his tweets broke down a timeline of recent Call of Duty releases and the studios that worked on them from 2019 until now. Henderson's chart pointed to the release date for the next Call of Duty falling on Nov. 12, 2021, meaning that fans might not have to wait too terribly long for the new entry.
The last time fans got to enjoy a Call of Duty series entry developed by Sledgehammer Games was with 2017's Call of Duty: WWII. Before those releases, the developer also worked on Call of Duty: Advanced Warfare and Call of Duty: Modern Warfare 3. Sledgehammer Games has also handled co-developer duties on other Call of Duty titles, such as the recently released Call of Duty: Black Ops Cold War, which was a critical success. The developer was also slated to produce a third-person spinoff titled Call of Duty: Vietnam, but that game has sadly been canceled.
It seems plausible that it's Sledgehammer's turn to deliver a full new series installment. 2018's Call of Duty: Black Ops 4 was produced primarily by Treyarch, 2019's Call of Duty: Modern Warfare was mainly developed by Infinity Ward, and 2020's Call of Duty: Black Ops Cold War also came from Treyarch. Multiple Activision studios are known for working on annual Call of Duty games, but it's been a while since Sledgehammer Games has been tapped to handle the majority of the latest Call of Duty release.
Hopefully fans will get an official announcement regarding Sledgehammer Games' involvement in the near future.