Why The Newest Smash Bros. Character Is Causing An Uproar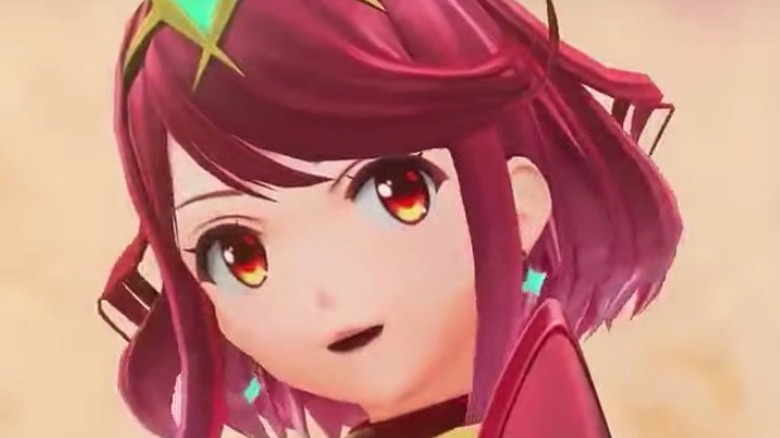 During the Feb. 17 Nintendo Direct, players got a first look at the latest Super Smash Bros. Ultimate DLC character, and some of them are not happy about it. Xenoblade Chronicles 2's Pyra will join the extensive cast of Super Smash Bros. characters in March, adding yet another sword-based fighter to a roster that is already full of them.
In a now-deleted tweet (via Den of Geek) Bloomberg's Jason Schreier tweeted, "Finally, Super Smash Bros. gets an anime character with a sword." Other fans chimed in with their disappointment, with one calling the latest batch of fighters "weak," and another calling Pyra the "lamest possible character."
Still others in the gaming community seem pleased with the announcement, mainly for sentimental reasons. Some fans speculated that Pyra might be included to honor the late streamer Etika, who passed in 2019. One gamer tweeted, "I truly wonder if Sakurai put Pyra and Mythra in Smash for Etika in some way, since he loved those characters so much." Others also noted that their thoughts are with Etika, as he would have enjoyed seeing Pyra's inclusion in Super Smash Bros.
Pyra will be the latest in a long line of sword-wielding fighter to be added in the series, joining a variety of Fire Emblem characters and classic choices like Link. Series creator Masahiro Sakurai has spoken out about the extensive inclusion of sword-wielding characters in the past, telling fans that he doesn't actually help select which characters are added to the game as DLC. Sakurai noted that sword characters provide an extra challenge to the development team, explaining, "Since there are too many sword characters, we make them all have their own tactics that are unique to the fighter."
Pyra is actually two characters in one, and players will get to see both sides of her in Super Smash Bros. Ultimate. Mythra, Pyra's counterpart, was previously featured as a spirit in Super Smash Bros. Ultimate, though designers seemingly made her clothing and appearance a bit more modest to accommodate the series' E rating. Now, Mythra will get a full shot at fighting her very own battles as part of Pyra's character design, which makes sense considering her role in the plot of her original game. Players will be able to switch between Pyra and Mythra, much like they can switch between Sheik and Zelda in some Super Smash Bros. titles. 
Xenoblade Chronicles 2 made quite an impression when it was first released. It was considered to be one of the best Switch exclusives of 2017, and one of the best RPGs of the year amongst all platforms. Though Pyra's inclusion doesn't do much to diversify the Super Smash Bros. lineup in terms of strategy, Xenoblade fans can rejoice that one of their favorite characters is returning to the Switch.