How Nintendo Is Solving This Skyward Sword Problem For Switch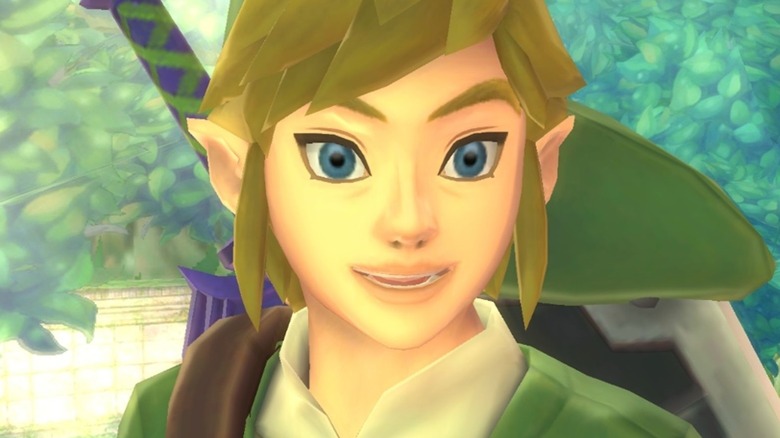 During the Feb. 17 Nintendo Direct, The Legend of Zelda fans got some interesting news regarding one of the series' classic titles. Not only is an HD remaster of 2011's Skyward Sword coming to the Nintendo Switch, but the all new port will feature some interesting upgrades in the way it controls.
Advertisement
Skyward Sword was originally released on the Wii to glowing reviews, with particular praise being given to its storyline and puzzles. The motion controls, while innovative, were also described as "sometimes fiddly" by GamesRadar+. In the years since, the motion control aspect of the game has been seen by some gamers as one of the more dated aspects of Skyward Sword. While the controls are still generally seen as an interesting idea, publications like Goomba Stomp have pointed out in recent years that they have a tendency to be a little too sensitive to player movement.
Nintendo looks to be giving all gamers plenty of options when it comes to how they want to play Skyward Sword HD. Players who want to experience a more traditional Skyward Sword playthrough are in luck. The game replicates the original's control scheme by mapping the motion controls to the Switch's twin Joy-Con controllers. The right controller can be swung to make Link swipe at enemies with his sword. Meanwhile, the left controller corresponds with Link's shield. Raising your shield is as simple as raising your left hand. Both controllers are used to draw and fire Link's bow and arrow.
Advertisement
In the Nintendo Direct presentation, these controls seem to work rather well. However, the biggest news about the remaster came next: Nintendo has also found a way to rework the controller scheme for players who don't want to deal with all of the potential fuss that comes with motion controls.
For the console's handheld mode (or when using a Switch Lite), the sword controls are now mapped to the right analog stick. As explained by Zelda series producer Eiji Aonuma, when carrying out a sword attack, players will "just tilt the stick in the respective direction." Link's Sword will swing according to different manual directional inputs.
This design decision has been met with praise by fans, some of whom will be playing the game for the first time, thanks to the new control scheme. For instance, YouTuber and voice actor SungWon Cho (a.k.a. ProZD) tweeted, "i'm glad skyward sword has button controls now so i can maybe actually enjoy that game."
Of course, there are plenty of people on Twitter who were displeased with the announcement of Skyward Sword, especially since Nintendo didn't have any solid updates regarding the sequel to Breath of the Wild. Hopefully the new version of Skyward Sword will be enough to tide those fans over until a proper BOTW 2 announcement is made.
Advertisement